Dalit groups in a race to take credit for agitation in Maharashtra
The disunity among Dalit leaders was evident as every leader was directing his own workers and addressing media separately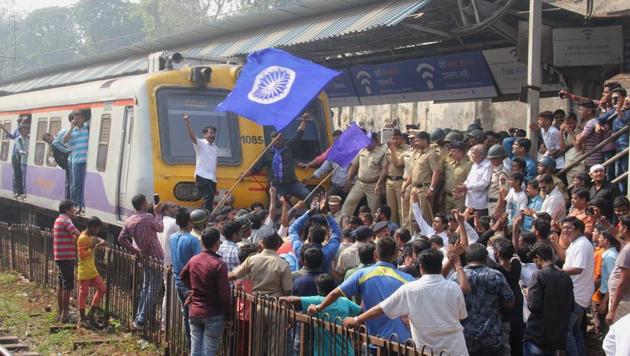 Updated on Jan 04, 2018 04:36 PM IST
As protesters came out on streets, staged agitations, unleashed violence at some places and forced a Maharashra bandh on Wednesday, Dalit leaders in the state were vying to take credit for the movement. The fragmented leadership of the Dalit movement became visible once again despite the fact that they were forced to take an aggressive stand because of their followers.
It was Prakash Ambedkar, grandson of Dr BR Ambedkar who heads Bharipa Bahujan Mahasangh, who took the initiative by announcing a Maharashtra bandh on Tuesday while protests had already begun. He also made it clear that the protests were against the right-wing leaders such as Sambhaji Bhide and Milind Ekbote and not the Maratha community. He said he was supported by the Left parties. Most other Dalit leaders in the state including Union minister Ramdas Athawale did not take a clear stand on the agitation. Most outfits were forced to join the protests on Wednesday as a large number of protesters started coming out on streets on their own.
Prakash, who has been marginalised in recent years, has once again come in the limelight owing to this agitation, which paralysed the entire city. His major rival Athawale, whose party — Republican Party of India (RPI (A)) — had initially not joined the shutdown and was forced to take part in view of the anger among the Dalit masses. Its leader Deepak Nikhalje also took part in the agitation at Ghatkopar, one of the epicentres of the agitation. "We will meet chief minister Devendra Fadnavis and coax him to take corrective action. We are sure, he will arrest the guilty and give us justice," said Nikhalje, brother of underworld don Chhota Rajan. The RPI (A) leaders met Fadnavis on Wednesday evening to press for their demands.
Not to be left behind was Anandraj Ambedkar, brother of Prakash who heads an outfit, Republican Sena. He also met Fadnavis. "It was a sort of uprising against the atrocities on Dalits in which every Maharashtrian took part," said Anandraj.
However, despite protesters coming on streets unmindful of their affiliations, the disunity among Dalit leaders was evident as every leader was directing his own workers and addressing media separately. "Dalit leadership can never come together and will remain fragmented," said political analyst Surendra Jondhale. "Every leader has his own vested interests and is busy pursuing his own agenda."
Significantly, the Dalit leaders in Maharashtra are also vary of the support Gujarat legislator Jignesh Mevani is getting among young Dalits. They don't want it to happen in Maharashtra. As such, they decided to take an aggressive stance on the issue and deny Mevani a chance to score over them. "In this age of social media, it is not difficult for someone like Mevani to appeal to the targeted audience. If we did not take up the agitations, our youths would have rallied behind him," said a senior RPI (A) leader.
Close Story