Green cover of three lakes in Mumbai shrinks by 30% due to encroachments in 17 years: NGO
The state forest department refuted the findings, terming them unreliable.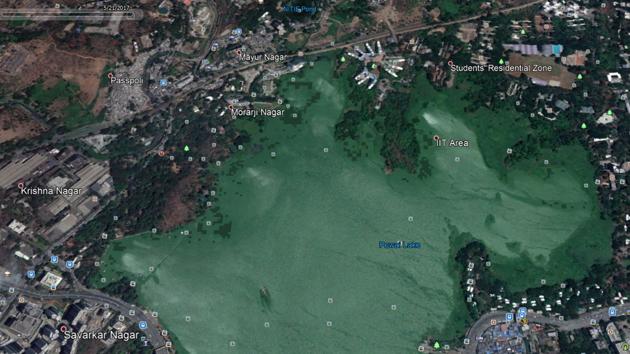 Updated on Oct 14, 2017 12:46 AM IST
The green cover near the banks of Mumbai's Powai, Vihar and Tulsi lakes has reduced by 30% owing to encroachments and reclamation in the past 17 years, according to a survey. The state forest department refuted the findings, terming them unreliable.
The survey by NGO Watchdog Foundation found that encroachments caused illegal felling of trees around these lakes, which supply water to the city. Dust from ready-mix-concrete (RMC) plants, used at nearby construction sites, and smoke from industrial units are also affecting the ecosystem of the lakes.
The satellite maps of the lakes captured between March 2000 and March 2017 show reduction in the green cover. The NGO has filed a complaint with the state forest department and the Brihanmumbai Municipal Corporation (BMC).
According to the survey, the tree cover around Tulsi lake has declined by 3.3 square kilometres of nine square kilometre; around Vihar lake by two sq km of 13 sq km; and Powai lake by one sq km of 3.1 sq km.
"We have found a 28-30% decline in trees, shrubs, plants and all other vegetation," said Godfrey Pimenta, trustee, Watchdog Foundation.
"The urban lakes are eco-assets of the city and perform crucial environmental, social and economic functions. They must be protected at all costs. Unfortunately, most lakes in Mumbai regions are drying up or reclaimed," he said adding, "Maintaining the biodiversity of urban water bodies has to be the foremost objectives of the state government."
The lakes were built in the 19th-century by the colonial administration to supply water to the city. Tulsi and Vihar are inside the Sanjay Gandhi National Park. Powai is outside the park. In 1942, the then Bombay Municipal Corporation acquired the catchment areas of these lakes.
"Large areas under marsh and mangroves have been reclaimed to accommodate an ever-growing population which creates flooding in several areas during the monsoon," read the Development Plan 2034 prepared by the BMC in 2015.
Meanwhile, the state forest department said the survey was unscientific. "While illegal encroachments have been identified at various protected forest areas, the green cover has not declined," said Jitendra Ramgaokar, deputy conservator of forest, Thane forest range.
Authorities are duty bound to protect natural resources: SC
A 2001 Supreme Court order stated that natural resources such as forests, tanks, ponds, hillocks and mountains need to be protected as they are important for maintaining the ecological balance. It also ruled that authorities are "duty bound" to clean and develop them to prevent an ecological disaster.
68 lakes are not maintained
A study found that 68 lakes in Mumbai were uncared for
63.2% of them were used to dump garbage
About 60% were used for washing clothes, defecating and urinating, while 22% were used for bathing
Religious offerings were disposed in 41% of the lakes and 32.4% had sewage released into them
What you can do
If you live close to a water body, make sure you photograph it. It can stand as evidence in court if there's ever an attempt to reclaim it.
If you see truckloads of debris being dumped into it, inform your ward officer and police station.
As a step further, file a written complaint to them as well as the city or suburban collector.
Those involved with dumping debris, from the developer to the contract workers, can be booked under various criminal charges and under the Environment Protection Act
If you want to get a polluted water body cleaned in your neighbourhood, contact the Maharashtra Pollution Control Board on 022-24020781 / 24014701 / 24010437
Close Story