Gujarat, not Rajasthan, is the sunniest state: ISRO study
Published on Sep 19, 2016 03:29 PM IST
After Kutch in Gujarat, the mapping identified Hayathnagar (Telangana) for receiving the second highest solar energy followed by Sriharikota (Andhra Pradesh), Jaisalmer (Rajasthan) and Mahendragiri (Orissa)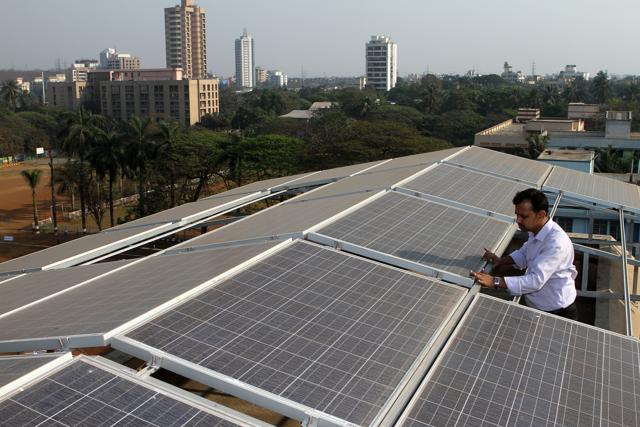 It's been long thought that Rajasthan is India's sunniest state, but a mapping of solar energy hotspots by the Indian Space Research Organisation (ISRO) has found that Gujarat receives the highest levels of solar radiation, making it the best place in the country to set up solar power plants.
Identifying states and land masses that receive maximum solar energy assumes significance with the Jawaharlal Nehru National Solar Mission's target to install 20,000 megawatt of grid-connected solar power plants by 2022 and parity with coal-based thermal power by 2030. At present, solar energy accounts for less than 1% of the total power generation capacity in India.
"The Indian land mass receives one of the highest levels of solar energy in the world, which still remains untapped and underutilised," said Bimal K Bhattacharya, earth ocean atmosphere planetary science and applications area, Space Applications Centre, ISRO. "These assessments will therefore facilitate decisions on site-selection for installation of new large scale solar-based power generation systems and also to compute rooftop solar energy potential in urban and rural India."
The three-member team used remote sensing observations from Geostationary Meteorological Satellite – Kalpana 1 – and compared the findings with INSAT-linked Agro-Met Stations (AMS) between 2009 and 2011, high density solar energy pockets were detected in western, central and southern India including states of Gujarat, Rajasthan, Madhya Pradesh, Karnataka, Tamil Nadu and Chhattisgarh. Grasslands receive 39% of the country's solar radiation followed by deserts (25%), barren land (21%), shrubs and bush (14%), and savannah (1%).
After Kutch in Gujarat, the mapping identified Hayathnagar (Telangana) for receiving the second highest solar energy followed by Sriharikota (Andhra Pradesh), Jaisalmer (Rajasthan) and Mahendragiri (Orissa).
The amount of solar energy reaching the Indian landmass increases between March and May with the highest recorded in the western dry and central Indian plains, only to reduce with the onset of southwest monsoon till August due to cloud cover. A spike in solar energy is recorded in October across India. But this phase doesn't last long with foggy and cloudy conditions in north India, though south India receives more solar energy. Of the three years, 2009 received more solar radiation on account of the drought and less cloud cover.
India's location between the equator and tropic of cancer ensures that clear sky days – cloud and fog free days – range between 200 and 300 every year. In fact, a few pockets in Gujarat, Rajasthan, Maharashtra, Madhya Pradesh and Tripura witnessed more than 300 clear sky days in 2011. However, more than 200 clear sky days were consistently seem over western and central parts of India from 2009 to 2011.
"It is observed that the per capita electricity consumption is highest in western India followed by southern and northern regions. Most of the identified solar hotspots are also in these regions, and hence solar power generation could reduce transmission losses due to its decentralised and distributed nature," stated the researchers.
The hotspots
High to very high solar energy: Parts of western and central India including Chhattisgarh with promising pockets in Gujarat, Rajasthan, Madhya Pradesh, Karnataka and Tamil Nadu.
Higher solar energy: North-eastern hill region, Mizoram and parts of Tripura Lesser solar energy: Over Indo-Gangetic plain due to persistent cloud cover, fog and haze during January, February, July, November and December.
Low solar energy: Western Himalayan range with relatively larger solar energy in the Valley.
Personalise your news feed. Follow trending topics