India's biggest municipal bonds programme launched in Maharashtra
Jun 23, 2017 12:08 PM IST
Mumbai city news: In its first tranche, the corporation raised Rs200 crore through the Bombay Stock Exchange's bond trading platform at a coupon rate of 7.59 percent for ten years.
To finance its 24x7 water supply project, the Pune Municipal Corporation on Thursday launched India's biggest municipal bonds programme.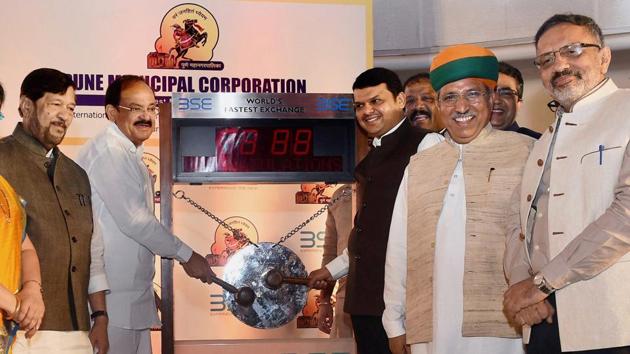 The project looks to raise Rs 2,264 crore in five years.
Union Urban Development minister Venkaiah Naidu, who launched the programme at Bombay Stock Exchange, said, "As cities need more resources to address gaps in infrastructure, they need to look at newer avenues for resource mobilisation. Municipal bond is one such tool. It is, however, not used much for various reasons and this needs to change in the context of capital-intensive urban transformation."
Besides Naidu, chief minister Devendra Fadnavis and Union minister of state for finance and corporate affairs Arjun Meghwal and senior government officials were present in the listing ceremony on Thursday.
Pune's bond programme is the first since the publication of the Issue and Listing of Debt Securities by Municipalities Regulations, 2015, by the Securities and Exchange Board of India (SEBI).
In its first part, the corporation raised Rs200 crore through the Bombay Stock Exchange's bond trading platform at a coupon rate (a fixed security amount) of 7.59% for 10 years. The issue received a good response with bonds being over-subscribed by six times.
Municipal bonds are debt instruments through which a corporation or municipality raises money from individuals or institutions. The civic body floating the bonds returns the principal amount on a maturity date with a specific amount of interest. There are usually two kinds of bonds – general bonds, where money is raised without mentioning the cause in particular, and revenue bonds, where funds are raised for income-generating projects and revenue from the projects is used to repay the buyers.
The Pune civic body will use the funds for its 24x7 water supply project and has decided to adopt a telescopic water tariff structure based on consumption for the next 30 years to generate revenue from it. The corporation has also decided to set aside a portion of its property tax collection to service the debt programme.
Fadnavis said, "We feel a need to look at new and innovative ways to finance the projects for various infrastructure services. The funds raised from the bond issue will be used to shape Pune as a smart city."
Last year, Prime Minister Narendra Modi urged SEBI and the Centre's Department of Economic Affairs to get at least 10 cities to issue municipal bonds within a year as part of his Smart Cities mission.
The municipal corporations of New Delhi, Ahmedabad and a few others have also lined up with credit ratings and the necessary documentation to issue municipal bonds, next year.
Read more
Loan waiver has become a fashion now: Venkaiah Naidu