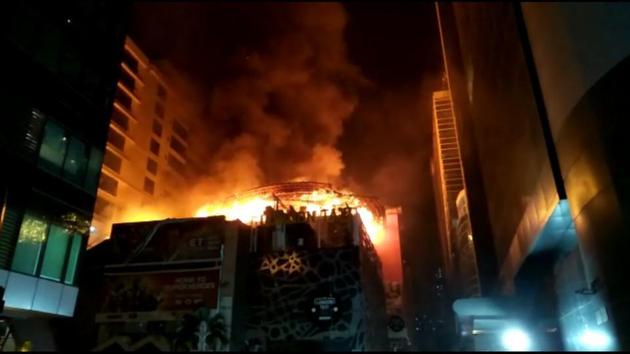 Kamala Mills Fire: Mumbai sessions court denies bail to Mojo's co-owner
Yug Tulli had claimed he could not be held responsible for the negligence of the waiter at Mojo's, which police said led to the fire
PUBLISHED ON APR 01, 2018 01:36 AM IST
The sessions court on Saturday rejected the bail plea of Mojo's Bistro restaurant's co-owner, Yug Tulli, who was arrested in connection with the Kamala Mills fire case.
Tulli was arrested on January 17 after he surrendered before the NM Joshi Marg police station. Fourteen people were killed in the fire which originated from Mojo's Bistro restaurant on December 28. The prosecution held the owners responsible for negligence and illegal construction.
After the investigation, Mumbai police had filed a chargesheet last month against all the accused, including Tulli. The police said that the fire originated from the flying embers due to the negligence of one of the waiters at Mojo's Bistro. The waiter did not switch off the fan kept next to the burning coal meant for hookahs, due to which the embers touched the curtains and caused the fire.
On the basis of the chargesheet, Tulli while seeking the bail claimed that he could not be held responsible for the negligence of the waiter.
Tulli's lawyers Shyam and Chirag Diwani, on Saturday argued that Tulli had no role to play in the incident.
"As per the chargesheet filed by police, the incident took place because of the negligence of one of the waiters. This shows that Tulli had no role to play in causing the fire. For the negligence of the servant, the owner cannot be held criminally responsible," the defence lawyers argued.
Special public prosecutor, Prakash Shetty contended that the victims had been trapped in the fire due to blockages and illegal construction.
Shetty said that looking at their status, they may not run away from the country but would try to influence witnesses and temper with the evidence.
The prosecution also contended that the investigation in the case is still in progress, and the police recently arrested two BMC officials. Hence, they pleaded that the accused should not be released on bail as it may affect the investigation.
The court considered the prosecution argument and rejected the bail plea on Saturday evening. However, the reasoned order on which the bail is rejected would be available only by next week, following which the accused is likely to move the higher court.
Close