Penalties for not following Mumbai plastic ban: Fines up to Rs 25,000, three-month jail
Jun 23, 2018 09:58 AM IST
The 249-strong squad of civic inspectors may not raid malls and shops at the start.
With the plastic ban coming into effect from Sunday, a 249-strong squad of civic inspectors may not raid malls and shops in the beginning, giving some respite to citizens. However, they will keep an eye on public spaces such as beaches, bus and railway stations and eco-sensitive areas.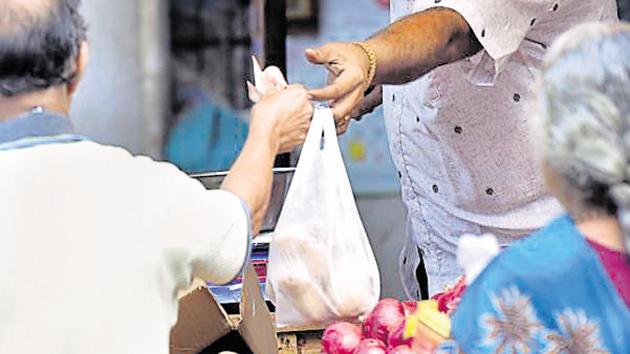 If found carrying plastic, you have to pay a fine of Rs 5,000 for the first offence; Rs 10,000 for a second offence; and Rs 25,000 and three-month jail for a third offence.
Amid clamour for delay in implementation of the ban, the Brihanmumbai Municipal Corporation (BMC) refused to give more time to citizens and manufacturers to get rid of banned plastic items.
Citizens and shopkeepers were given six months to dispose of plastic. Caterers, theatres, religious places, markets, hawkers and school, too, are under the purview of the ban.
"To weed out corruption, we plan to give inspectors payment gadgets for electronic receipts of the fines," said Nidhi Chaudhary, deputy municipal commissioner (special), in charge of the ban in the city.
The proposal to reduce the penalty amount had earlier been shot down by the law committee of the BMC. The civic body last week tabled a proposal to keep the fine between ₹200 and ₹1,000, with different amount for shops in malls, shopkeepers, street vendors, hotels, restaurants and citizens. The law committee, however, deferred the proposal, after principal secretary of the state environment department Anil Diggikar expressed reservations over it. BMC can put forth the proposal again, but a senior civic official said it is unlikely.
While civic body has collected 1.42 lakh kg of plastic across the city, various retailers' associations have also collected 2lakh kg of plastic.
To further improve collection, the civic body is organising an exhibition from June 22 to June 24 at NSCI Worli. As many as 60 companies and 80 self-help groups showcasing alternatives to plastic will be present at the exhibition.