Maharashtra raps state pollution control board for failing to act against industries in Taloja
Published on Nov 16, 2017 11:38 AM IST
Inspection revealed industries are dumping untreated waste directly into Kasadi river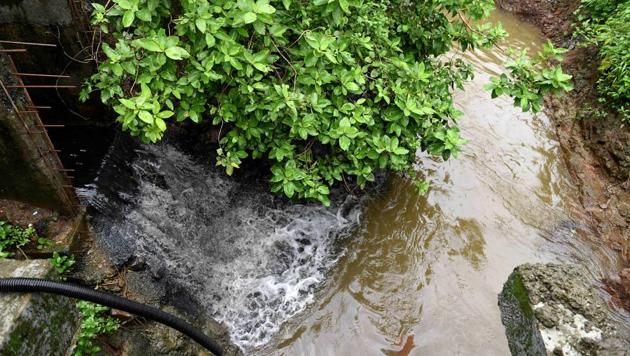 The Maharashtra environment department will take punitive action against officers of the Maharashtra Pollution Control Board (MPCB) for ignoring violations by industries that operate the Taloja common effluent treatment plant (CETP).
The move comes six days after an inspection by state environment minister Ramdas Kadam found that the CETP was not working ,and untreated industrial waste was being dumped directly into the Kasadi River without any treatment. HT reported on Wednesday that CETP operators were booked by the local police station only after the minister asked them to do so.
Officials from the state environment department told HT that citing negligence and dereliction of duty by MPCB officers, the department has asked for a detailed report regarding efforts being taken to control pollution in Taloja industrial area. "If MPCB would have taken cognisance regarding the functioning of the CETP beforehand, such a situation would have never happened. We will check the complicity of our own officers because this has been a longstanding issue and a departmental probe is needed in the matter," said Satish Gavai, additional chief secretary, state environment department.
According to MPCB, the area has nearly 1,000 pharmaceutical, food and engineering factories spread across 2,157 acres at the Taloja industrial area in Navi Mumbai. Of these, 347 small and medium-scale industries, mostly comprising chemical, pharmaceutical and food processing, are polluting industries with one CETP treating effluents. The industries employ about 76,000 people and have an annual turnover of Rs60,000 crore.
MPCB officers from the area said they had been conducting weekly (every Monday) surveys to monitor operations at the CETP. "We were aware that the CETP was dysfunctional. However, our department was told that it would be handed over to the Maharashtra Industrial Development Corporation (MIDC), and owing to this confusion, we didn't know whether or not to flag off these issues immediately," said Jayant Hajare, sub-regional officer, MPCB Navi Mumbai. "In spite of these issues, we still filed a case against CETP operators at the Panvel court highlighting high pollution levels at Kasadi River."
Over the past year, HT has consistently reported that pollution levels at Kasadi were 13 times the safe limit. MPCB officers had told HT that sewage treatment had taken a hit due to dilapidated pipelines releasing untreated waste into the creeks. In August, this paper also reported that dogs were mysteriously turning blue as a result of blue dye released into the air and the river water by a private company. Citing reports, the pollution board shut down the private company.
Taloja CETP board of directors might be arrested next week: Police
Officers from the Taloja police station told HT on Wednesday that based on the current investigation; board members will be arrested within seven days for violating environmental norms.
"We have collected water samples from the outlet of the CETP and sent them for chemical analysis. Once we receive the results, we will have proof of the violation. The punchnama process has been completed and it is clear that the CETP was shut. The statements and other formalities are pending, and once all of this is complete, we will arrest the members named in the first information report (FIR)," said Rajesh Jadhav, investigative officer, Taloja police station.
The FIR was filed under various sections of the Indian Penal Code (IPC) such as 277 (fouling water of public spring or reservoir), 278 (making atmosphere noxious to health), 432 (mischief by causing inundation or obstruction to public drainage attended with damage), and 34 (acts done by several persons in furtherance of common intention) against 10 members that comprise of the board of directors, Taloja.
Personalise your news feed. Follow trending topics