Mumbai baby who weighed 445gm at birth survives after 3 months of intensive care
Hindustan Times |
, Mumbai
Aayushi Pratap
Jun 14, 2018 11:12 AM IST
Full-term babies delivered at the end of nine months weigh between 2.5kg and 3kg.
A preterm baby named Swaraa, weighing 445 grams and delivered at 27 weeks, has 'miraculously' survived at Kokilaben Dhirubhai Ambani Hospital (KDAH), Andheri, said doctors.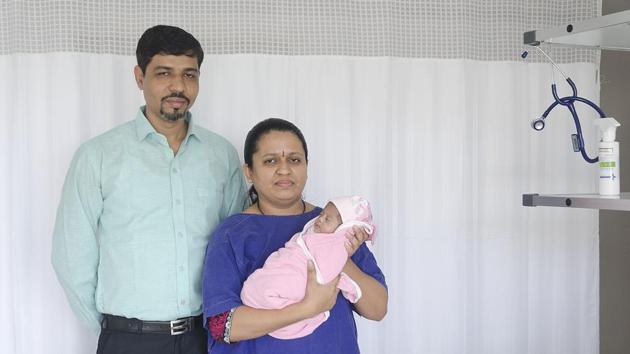 "The baby had slim chances of survival. At 27 weeks, her weight was corresponding to that of a 24-week foetus. All the organs were underdeveloped," said Dr Preetha Joshi, neonatal and cardiac intensivist at the hospital.
Full term babies delivered at the end of nine months weigh between 2.5kg and 3kg.
The mother's blood pressure had shot up to 'dangerously high' levels, after which she went into labour and doctors performed a Caesarean.
Like most 'extremely preterm babies', Swaraa was at a high risk of infections. "She couldn't breathe well and her immunity was low, which put her at risk of infections," Dr Joshi said. Doctors shifted her to the neonatal intensive care unit (NICU), put her in a warmer and gave her external oxygen support.
"We put tubes through the mouth to support breathing and tubes through her belly button to feed her," said Dr Vinay Joshi, consultant, NICU at KDAH.
After battling for her life for three months, Swaraa has recovered and is ready to go home. "Her body weight has increased to 2.05kg and doesn't need external oxygen supply anymore," said Dr Sajeev Vengalath, neonatologist at KDAH.
Shreya Shinde, Swaraa's mother, a homemaker, said she had been trying to conceive for the past six years.
"Three years ago, I underwent In Vitro Fertilisation (IVF) procedure, which failed. I went through the procedure last year again, after which I conceived," said Shinde.
Shinde said she first touched her daughter's hand only 20 days after she delivered. "After birth, they took her to the NICU. I saw for the first time, three days later. She was so small that I couldn't distinguish her face from the rest of her body."
While Swaraa survived because of timely NICU care, for many preterm children the facilities are not readily accessible, said doctors
Around six lakh newborns die in India every year. "In Maharashtra, the child mortality rate is nearly 24 per 1,000 births. Of them, two-thirds are premature born babies," said Dr Bhupendra Avasthi, founder of Surya Hospital, Santacruz.
He said there is a need for hospitals to invest more in NICU care.