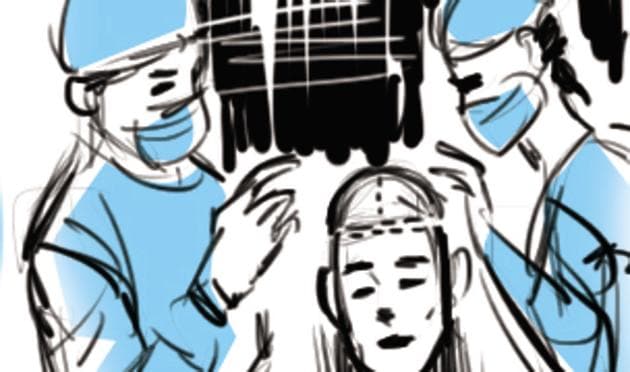 Mumbai doctors preserve top half of woman's skull in her abdomen
Procedure reduces pressure on brain of accident victim, who will undergo skull reconstruction
Hindustan Times | By Sadaguru Pandit
, Mumbai
UPDATED ON DEC 15, 2016 11:12 AM IST
In a lifesaving surgery, neurologists from Mumbai removed the top half of a 21-year-old woman's skull and preserved it in her abdominal wall. Doctors said the patient is stable and will undergo a skull reconstruction surgery in second week of February.
The surgery — known as decompressive circumferential craniectomy — is extremely rare. The entire top half of the skull is removed to reduce the pressure resulting from extensive swelling of the brain. In most cases, the surgery involves the removal of a part of the skull to allow the swelling to reduce.
Doctors said the woman, a resident of Navi Mumbai, is originally from Bihar. She is the daughter of an IPS officer. The family, for personal reasons, requested HT to withhold the woman's identity. Her father said she met with a severe road accident two months ago, when a truck rammed into her car in Navi Mumbai.
"The accident left her with a traumatic brain injury (TBI). Doctors from the civic hospital contacted us as she needed specialised medical care. Her pupils were dilated and she was critical," said Dr Ajay Bajaj, consultant neuro-spine surgeon at Wockhardt Hospital, Mumbai Central, where the woman was referred.
Dr Bajaj added that the patient had suffered a diffused brain injury, which results in multiple parts of the brain being affected by the extent of the trauma. "Surprisingly, there was no major blood clotting. But, the swelling was extensive. We put her on medication to reduce the swelling, but her condition kept deteriorating. So we decided to remove the top half of the skull to allow the swelling of the brain to occupy the cavity and reduce pressure," said Dr Bajaj. The brain was then covered with a thin layer of skin.
Doctors preserved the removed part of the skull in the patient's abdominal wall. Reconstruction of the skull will be carried out after the patient has recovered. "Rather than using a prosthetic for reconstruction, we thought it was better to preserve the original part of the skull. We could have preserved the skull by refrigerating it at a temperature lower than 8 degrees Celsius. But, as we do not know how long it will take for the patient to recover, we decided to store the skull naturally. This is the most efficient and natural way to preserve it," said Dr Bajaj.
The woman's father said she was stable and would return to the city in February for the final surgery. "We are thankful to the doctors and experts who saved the life of our daughter. She is doing well," he said.
Read
8-month-old boy youngest to undergo brain surgery in Mumbai hospital: Doctors
Maharashtra: Arrow pierces boy's head, surgery saves him
Anesthesia used in childhood surgeries doesn't affect brain later in life
Close