New draft CRZ rules protect builders' interest, not coastal environment, say activists
Apr 20, 2018 01:14 AM IST
Some of the significant changes as per the draft are that the applicability of CRZ distance to the land area or width of the creek from the high tide line is now 50 metres, reduced from 100 metres buffer zone
A day after the Union environment ministry issued the draft Coastal Zone Regulation Notification, 2018, city-based environmentalists said that the new rules will put coastal ecosystems along Mumbai Metropolitan Region (MMR) at risk from construction activities.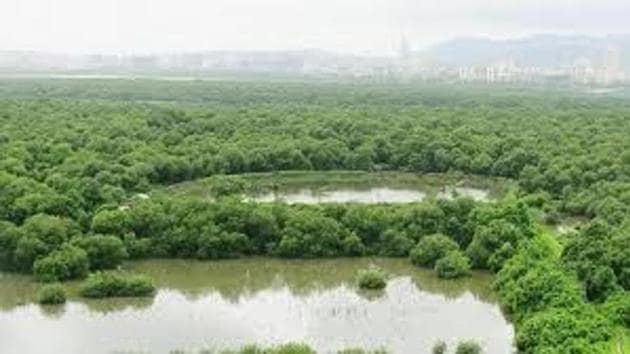 Recommending several changes to the existing rules from 2011, effectively easing norms regarding development in coastal areas, the Ministry of Environment, Forests and Climate Change (MoEFCC) notified the draft Coastal Regulation Zone (CRZ) 2018 guidelines on Wednesday and called for comments of the public and stakeholders over the next 60 days.
"The draft has been prepared for India's 7,500km coastline based on recommendations by a committee under the chairmanship of Dr Shailesh Nayak, all coastal states, and various other stakeholders. It encompasses protection of ecologically sensitive areas, safeguarding aquatic system and marine life, plastic waste disposal, and simultaneously allowing ecotourism and development of coastal zones," said a senior official from MoEFCC. "Based on suggestions and objections from the public, a committee under the ministry along with Dr Nayak will study the draft again, and only then will a final notification be issued. The process will take time."
Some of the significant changes as per the draft are that the applicability of CRZ distance to the land area or width of the creek from the high tide line (HTL) is now 50 metres, which has been reduced from the earlier limit of 100 metres buffer zone. While exemptions in CRZ-IA areas (classified as most sensitive coastal zone) where no development activities shall be permitted to be carried out, on mangroves located in private land, no buffer zone is required to be kept anymore. Eco-tourism activities such as mangrove walks, tree huts, nature trails, and so on will be allowed in these areas through the development of coastal zone management plans (CZMPs) and public consultation.
Environmentalists, irked by the developments, have already begun submitting suggestions and objections to the draft. "The distance between HTL and land area reduction was originally 500 metres prior to the CRZ rules in 2011, which has now been brought down to 50m. All the builders in MMR can rejoice as they now have another 50m strip to play around with just before the elections," said Debi Goenka, environmentalist and executive trustee of the Conservation Action Trust.
Some of the other major provisions are that applicability of the current floor space index (FSI) rule will apply in CRZ II areas (developed land areas up to or close to the shoreline in designated urban areas). "This means that as against the earlier FSI of 1.33 for the island city and 1 for the suburbs, the new rules will allow developers to build up to an FSI of 4. With the new development plan, this might increase further," said Goenka.
CRZ III areas have been divided into two categories — CRZ III a and b, wherein for CRZ III a, the distance between the HTL and land has been reduced from 200m to 50m. "Dr Nayak's committee report was one-sided and there was no consultation, therefore a completely one-sided draft notification has been issued. Ministry is protecting the builder's interest rather than the environment," said Goenka.
City-based advocates pointed out that the slum rehabilitation schemes (SRA) where developers were required to offer 51% stake to parastatal entities has been completely done away to please the builder lobby. "A total 26.32% of the total area of Greater Mumbai is affected by CRZ, and this notification is nothing but a gift for developers. The 50m distance rule will put lot of strain on the development particularly in ecologically sensitive areas such as Manori, Malad, Mahim creeks along the western suburbs, and Thane (Thane creek flamingo sanctuary), Mahul creek in the eastern suburbs and Vasai creek, north of Mumbai," said Godfrey Pimenta, lawyer and trustee, NGO Watchdog Foundation.
Pimenta added that the protection offered in CRZ notification 2011 to the fishing community (Koliwadas) has been ignored in this notification. "The only positive thing this draft points out to is disposal of plastic into the coastal waters, which shall be prohibited through adequate measures for management and disposal of plastic in CRZ," said Pimenta.
Stalin D, director, NGO Vanashakti, said, "Now, the environment protection act is being rewritten as the builders protection act. It has been introduced exclusively to allow destruction of coastal areas in Maharashtra, specifically in areas such as Palghar, Vasai, Mira-Bhayander, Virar, Uran. They entire document is committed towards opening up all protected areas for development as elections draw near. If this draft is notified, we will have to challenge it in court."
OTHER RECOMMENDATIONS MADE AS PART OF THE DRAFT COASTAL REGULATION ZONE (CRZ) 2018 NOTIFICATION
The new draft CRZ notification has major recommendations that will boost tourism development in coastal areas of the country, which remains untapped due to stringent regulatory framework.
• CRZ areas falling within municipal limits of Greater Mumbai: In order to protect and preserve green areas of Greater Mumbai, all open spaces, parks, gardens, playgrounds indicated in development plans within CRZ-II shall be categorised as 'No Development Zone' (NDZ)
• In the CRZ II areas as well, the proposed guidelines recommends development of vacant plots in designated areas for construction of beach resorts and hotels subject to guidelines. Temporary tourism facilities shall be permissible in the beaches falling in CRZ II areas
• In areas falling under CRZ III, wherever there is a national or state highway passing through the NDZ of CRZ III areas, temporary tourism facilities such as toilets, change rooms, drinking water facility and temporary shacks can be taken up on the seaward side of the road
• Construction of beach resorts or hotels shall not be permitted in ecologically sensitive areas (such as marine parks, mangroves, coral reefs, breeding and spawning grounds of fish, wildlife habitats and such other area as may be notified by the central or state government, Union territories)
• Construction of sewage treatment plants in CRZ-I area for the purpose of treating the sewage from the municipal area shall be taken only by the municipal authorities in exceptional circumstances, where no alternate site is available to set up such facilities, subject to recommendations of the coastal authority and approval by the central government
• In case the construction of such plant is inevitable in a mangrove area, a minimum three times the mangrove area affected/destroyed /cut during the construction process shall be taken up for compensatory plantation of mangroves (it was five times in the 2011 notification)
HOW TO SUBMIT SUGGESTIONS, OBJECTIONS
Citizens can submit suggestions and objections to Ministry of Environment, Forests and Climate Change at: arvind.nautiyal@gov.in or write to J-615, Jal Block, Indira Paryavaran Bhawan, Jor Bagh Road, New Delhi -110003