Relief for Mumbai commuters: Parel station gets new platform and foot overbridge
These facilities are part of the Rs51-crore Parel terminus project.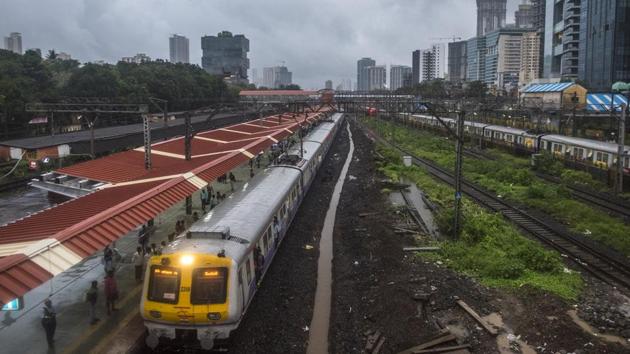 Updated on Jun 18, 2018 11:17 AM IST
Pushes and shoves at Parel railway station will be less frequent during peak hours as the Central Railway (CR) opened a new platform and a foot overbridge at the station on Sunday evening.
These facilities are part of the ₹51-crore Parel terminus project, which was launched after 23 people were killed in a stampede on September 29 last year at Elphinstone Road railway station. The project aims to decongest the station.
The 6.29pm Kalyan-bound local became the first to pass through the new platform. The CR has started operating south-bound slow trains from the new platform.
The new 12-metre-wide foot overbridge can be used only from the eastern side, while the Western Railway (WR) is yet to build the other side towards Elphinstone Road railway station.
"At three locations, we have provided three temporary connectors laid on the tracks between old and new platform for the convenience of commuters," said Sunil Udasi, chief public relations officer, CR.
In the past one-and-a-half decade, footfall at Parel and Elphinstone railways stations has gone up significantly, after their surrounding areas have been transformed into business hubs.
After the Elphinstone Road railway station stampede, experts had predicted more such untoward incidents at Parel station owing to narrow FOB and platform.
Four months after the tragedy, the Army has built an FOB on the northern side of Parel station. But it failed to reduce congestion as few passengers were using it. Passengers believe that the new 12-metre FOB will decongest Parel station.
Meanwhile, CR commuters had a harrowing Sunday as services were delayed by up to 30 minutes after an eight-hour mega block between CSMT and Chunabhatti stations on harbour line. A technical snag in a local at Govandi station added to the troubles of harbour line commuters.
Main line commuters fumed when CR failed to finish the block within stipulated time. "According to the schedule, the block had to end at 5.30pm. When I went to Chinchpokli station to travel to Thane around 6pm, there was no train for a long time," said Vikas Parab, a Lalbaug resident.
Close Story