Sena criticises BJP for failing to contain protests in Maharashtra, thinking only of elections
In an editorial in its mouthpiece Saamana, the party also slammed Prakash Ambedkar for instigating violence to fulfil his political agenda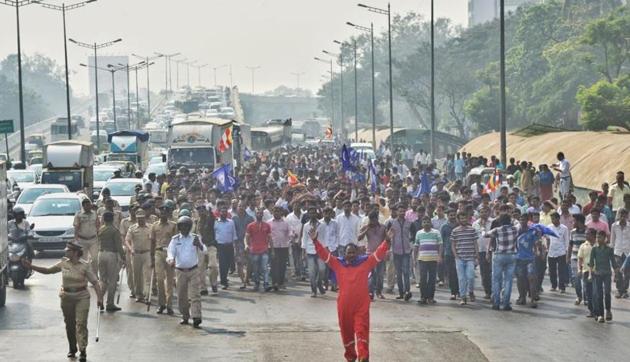 Updated on Jan 04, 2018 03:12 PM IST
The Shiv Sena on Thursday took on the Bharatiya Janata Party (BJP) for the state government's failure in controlling protests during the Maharashtra bandh declared by Dalit groups.
Prakash Ambedkar, grandson of BR Ambedkar and head of a Dalit group, had called for a bandh on Wednesday in protest against the violent clashes at Bhima Koregaon near Pune on January 1. The call was supported by 250 Dalit groups across the state.
In an editorial in the Sena mouthpiece 'Saamana', the party questioned the Bharatiya Janata Party (BJP) government's capability as it was "not able to control the ongoing chaos in the state".
The Sena said the state paid the price because of "politics in the police department and because the home department is controlled by the BJP".
The Marathi daily's editorial is said to reflect Sena chief Uddhav Thackeray's opinion. "There is nothing new in ordering an inquiry in such a matter, everyone does that. What new thing has the Maharashtra government done to tackle the issue," the editorial questioned. "People from other states are coming to Maharashtra and carrying out such activities," it further alleged.
The editorial also slammed its ally for using the police machinery to win elections. "When contesting and winning elections with the help of the government and the police becomes the primary job, a spark like this flares up into a big fire," it said, criticising the government for not containing the clashes in Bhima Koregaon.
The BJP government should set aside its election mindset, the piece said. "There is a lot of time left to fight with the Shiv Sena. Instead of putting all its might to finish the Sena politically, it should fight the real enemies of the state," Saamana asserted.
The Sena also accused Bharipa Bahujan Mahasangh chief Prakash Ambedkar of inciting violence, and said he should not have used the issue to fulfil his political agenda. A true leader is one "who gives direction to the crowd and not one who instigates violence," it said.
Close Story