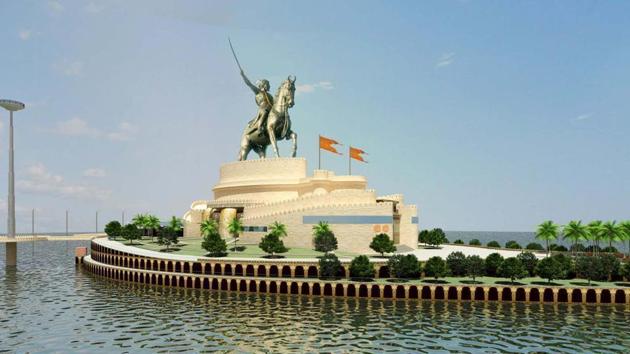 Maharashtra government's taller Shivaji statue plan likely to get green nod
Maharashtra: State government's taller Shivaji statue plan likely to get green nod
Hindustan Times | By Surendra P Gangan
, Mumbai
UPDATED ON MAY 01, 2018 01:07 AM IST
The Maharashtra government is expecting a final environmental clearance for its revised design of the mid-sea Shivaji statue, after top officials from the Ministry of Environment and Forest met last week. The new design presented to the ministry by the state's public works department on April 22 proposed increasing the total height of the statue to 210 meters – a 126-metre-tall statue and a pedestal that is 84 metres high. The department has also proposed tilting the statue's beam landward. "The new design has the in principle permission from the ministry, but it will be confirmed once the minutes of the meeting are issued," an official from the department said.
The row over the height of the statue began in March this year, after the Opposition claimed the height had been reduced. Congress leader and former CM, Prithviraj Chavan, alleged the height of the equestrian statue was reduced from 160 metres, and instead, the height of the pedestal below it was increased. The Opposition alleged the changes in the design led to the delay in permission for the construction — the project was first approved by the Ashok Chavan cabinet in 2008, and its original cost was around Rs 250 crore.
After the environment clearance, the state government is expected to sign an agreement with the contractor, Larsen & Toubro, once a draft of the agreement is vetted by the law and judiciary department.
"After the work order is issued to L&T, they will fine-tune the design of the project over the next few months and begin actual construction after monsoon," another official from the general administration department said.
The state had appointed the firm to build the memorial two months ago, after it settled the cost at Rs 2,500 crore, and a GST of Rs 300 crore.
The firm's original bid was Rs 3,826 crore.
"While negotiating, the specification of the material to be used for the statue has been changed and the number of jetties was reduced from two to one. This enabled us to bring down the cost," said a third official from the department.
Vinayak Mete, the chairman of the committee that oversees the implementation of the memorial project said his panel had approved the revised design earlier.
"After the presentation last week, we are expecting the notification in the next few days after which the work order will be issued," said Mete, adding, "The contract documents are being minutely vetted to
avoid legal hitches in the implementation of this ambitious project."
Close