The machismo of killing frail old men and women
Must these young men necessarily have to physically eliminate frail old men and women they cannot combat intellectually?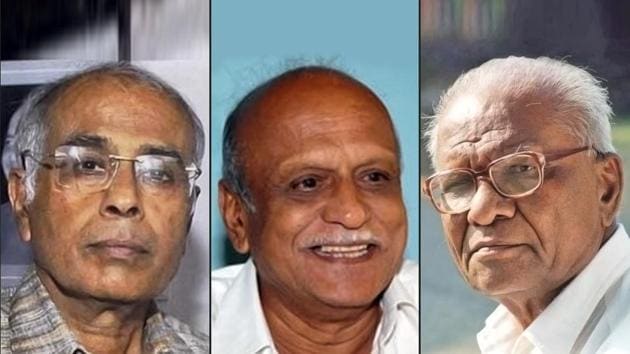 Published on Aug 15, 2018 12:36 AM IST
Narendra Dabholkar, an old man in his 70s, was out for a morning walk in Pune when two young, presumably able-bodied, men riding motorbikes got within striking distance of him and fired at point blank range, killing him on the spot. So was Govind Pansare — an old man in his 70s — out for a morning constitutional with his wife in Kolhapur. The same modus operandi was used against him. MM Kalburgi was also an old man in his 70s, sitting in his drawing room with a cup of morning coffee and a newspaper when two young men rang his doorbell, were let in by his wife, and shot him dead at point blank range. Come to think of it, even Mahatma Gandhi was an old man in his 70s leaning on two women he called his walking sticks when the 32-year old Nathuram Godse shot him dead at point blank range. Talking of women, Gauri Lankesh was a frail 55-year-old, letting herself inside her gate when Sanatan Sadhaks shot her dead at point-blank range.
I have always wondered at these macho men of the saffron brigade who think nothing of targeting unarmed, unguarded old men and women and continue to believe in their muscular policy of a Hindu Rashtra. Does Hinduism really sanction killing harmless old men and frail middle-aged women? Even the worst kinds of gangsters refrain from such personal targeting.
The Karnataka police investigating the Gauri Lankesh murder has revealed that the Sanatan Sanstha (SS) had at least 20 more people on target, including Girish Karnad (again in his 70s) and other writers and intellectuals whose ideologies they are unable to overcome with reasonable arguments. Must these young men necessarily have to physically eliminate frail old men and women they cannot combat intellectually?
Looking at the SS, whose sadhak has been arrested for making crude bombs, it appears to merely be a cult established by a hypnotherapist, Dr Jayant Athawale, who used hypnotism to good effect to lure people into his organisation. For example, he would make people scribble the names of their family deities thousands of times and make them believe that the gods had appeared in person before them out of those scribbles. Being a hypnotist, he also knew how to lure young gullible boys into his cult. Parents of those children have been desperate to get them back and many have now even petitioned the high court for their custody.
The SS, thus, is very different from the Sangh Parivar, which does not lure its pracharaks through hypnotism or psychotropic drugs, as the Sanatanis are accused of doing with young boys and girls, but rather convinces them irrevocably at a young impressionable age of their Hindutva orientations. But there is another very significant difference between the Sanatani terrorists and those associates of the Sangh accused of indulging in such activities. The Sanatan Sadhaks have so far targeted only Hindus, the Sangh-associated people, whatever the status of their cases today, clearly had Muslim targets in their crosshairs — Malegaon, Samjhauta Express etc.
There is also the misconception that these Sanatan Sadhaks are supported by the Sangh Parivar – they may have the common goal of a Hindu Rashtra in mind but are bitter critics of Narendra Modi, Manohar Parrikar (the bulk of their activities are in Goa) and Mohan Bhagwat. None of these leaders, however, gave any leeway to the Sanatan Sanstha. That blame must lie at the doors of the late RR Patil, as the then home minister of Maharashtra, and the NCP.
Highly informed sources have told me that while Dabholkar was killed in August 2013, the Maharashtra Police knew by December that year of the involvement of the Sanatan Sanstha in the killing. But with the Lok Sabha elections five months away, both the Congress and the Nationalist Congress Party (NCP) were afraid of targeting any organisation that would make them appear anti-Hindu. So even then union home minister Sushil Kumar Shinde did not act on the proposal to ban the Sanatan Sanstha, then chief minister Prithviraj Chavan complained he was never kept in the loop by his junior Patil and, of course, Patil had the blessings of his top leadership who were not uncomfortable with practising soft Hindutva.
So as the Sanatan Sanstha grew under their watch (even in Goa, Digambar Kamat of the Congress was wary of banning them despite the fact they targetted Margao on Diwali in 2009), these macho young men killed frailer old men and women. I am sure they will regret this misplaced concept of manhood but someone needs to de-hypnotise them first!
Close Story
Personalise your news feed. Follow trending topics