Tribals, farmers in Gujarat and Maharahshtra who will lose land protest bullet train project
Sep 14, 2017 12:31 AM IST
Tribals and farmers affiliated to 24 organisations across Maharashtra and Gujarat have joined forces to oppose the Modi government's proposed showpiece projects
As Prime Minister Narendra Modi and Japanese Prime Minister Shinzo Abe lay the foundation stone for the Mumbai-Ahmedabad bullet train project in Gujarat, tribals in Maharashtra and Gujarat will meet tehsildars of tribal areas that will be impacted by the project and submit letters of protest.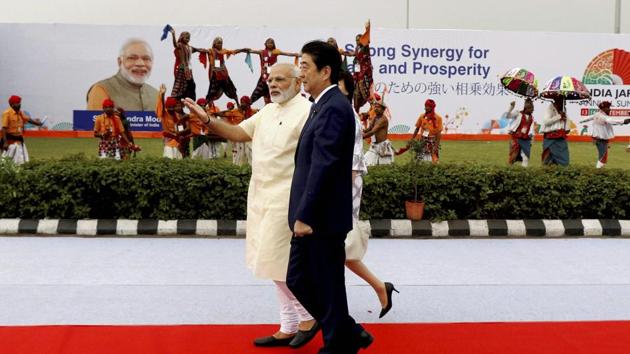 Tribals and farmers affiliated to 24 organisations across Maharashtra and Gujarat have joined forces to oppose the Modi government's proposed showpiece projects such as the Delhi-Mumbai Industrial Corridor (DMIC), the freight corridor, Mumbai-Ahmedabad bullet train and the Mumbai-Vadodara expressway. The projects pass through tribal belts in Maharashtra and Gujarat such as Thane, Dahanu, Palghar, Navsari, Valsad and the union territory of Dadra-Nagar Haveli.
Stay tuned with breaking news on HT Channel on Facebook.
Join Now
Vinod Dumada, an activist with Maharashtra's Adivasi Ekta Parishad, said, "We are not against development, but we will oppose it if it is done at the cost of tribal life. The local tribal population will lose its land, livelihood to roads and industries. This area might progress with big buildings, malls and factories, but the original resident tribals will be driven out. The government hasn't given tribals the capacity to absorb this development."
In Maharashtra, activists plan to meet tehsildars of Dahanu, Palghar and Talasari tehsils to give letters of protest on Thursday. Similarly in Gujarat, activists across tehsils from Valsad to Ahmedabad will give their protest in writing to tehsildar's offices, said Jayesh Patel, an activist working with the Ahmedabad-based Khedu Samaj Gujarat.
"Vast tracts of land on either side of the freight corridor are being set aside for industrial use and this will result in many farmers losing their livelihood. We question the very need for an industrial corridor and transport projects such as the bullet train along this route passing through scheduled areas," Patel said.
The 24 organisations last month submitted a joint memorandum of their protest to the prime minister's office. "While all these projects are being proposed, the cumulative effect of multiple projects in close proximity to one another will result in the physical, social and cultural upheaval of communities that live in relative symbiosis with nature. To understand the extent of destruction and upheaval it is necessary to view the multiple proposed projects not as individual separate projects, but as a composite whole," read the memorandum.
Besides questioning the requirement of these projects, in their letter to Modi, the organisations have also elaborated on how the Panchayats Extension to Scheduled Areas (PESA) Act is being violated with authorities blatantly ignoring resolutions passed by local gram sabhas against these projects. "The consultative provisions of the PESA Act have been reduced to a farce. Survey work, which is part of the project, is being undertaken clandestinely without even informing the gram sabhas," read the memorandum.