Visually impaired 30-year-old from Ulhasnagar becomes IAS officer
Updated on Jun 04, 2018 12:32 PM IST
Pranjal Patil joined as assistant collector at Ernakulam district in Kerala a week ago.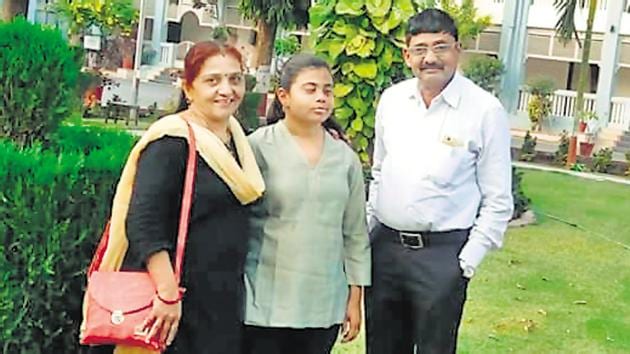 Hindustan Times |
, Mumbai
Ankita G Menon
Born with weak eyesight, 30-year-old Pranjal Patil, an Ulhasnagar resident, lost her vision at the age of six. But this did not deter her from achieving her dream of becoming an Indian Administrative Service (IAS) officer.
After clearing the UPSC exams in the first attempt, she was offered a job in the Indian Railway Accounts Service (IRAS), but the railways refused to appoint her owing to her 100% blindness.
"After the railways' refusal, I was disappointed, but not ready to give up the fight. I again worked hard to improve my ranking in the second attempt," Patil said.
A tenacious Patil cracked the Union Public Service Commission (UPSC) exams in the second attempt too — this time with a better score and standing 124th in the country. Patil joined as assistant collector at Ernakulam district in Kerala a week ago.
For the past week, Patil has been busy fielding questions from media. "Everyone is fascinated by my achievement, but I do not think one should consider blindness as an obstacle," she said. She has a piece of advice for the railways: "The doors of opportunity should be open to all and not restricted to physical limitations."
Patil lost her vision when her eyes were exposed to direct sunlight. A political science graduate, she completed her master's in international relations from Jawaharlal Nehru University, Delhi, followed by an MPhil and PhD.
She is married to Kunal Patil, a businessman from Dombivli.
Japanese philosopher Daisaku Ikeda and physicist Stephen Hawking are her role models.
It's a proud moment for her parents, who have stood by her side. "We have always encouraged her to achieve her dream. Though it jolted her and us when she lost her eyesight, she was a very focused and diligent child," said LB Patil, 57, her father.
Her parents are accompanying her to Ernakulam.
"Currently it is my training period as assistant collector. I am learning about various departments and their functions. There are many challenges ahead of me," Patil said. She has met officials from various departments to understand her role better.
"Although Kerala and Maharashtra are coastal regions, they are culturally and linguistically very different. People in Kerala are more aware of laws and politics," Patil said.
Personalise your news feed. Follow trending topics