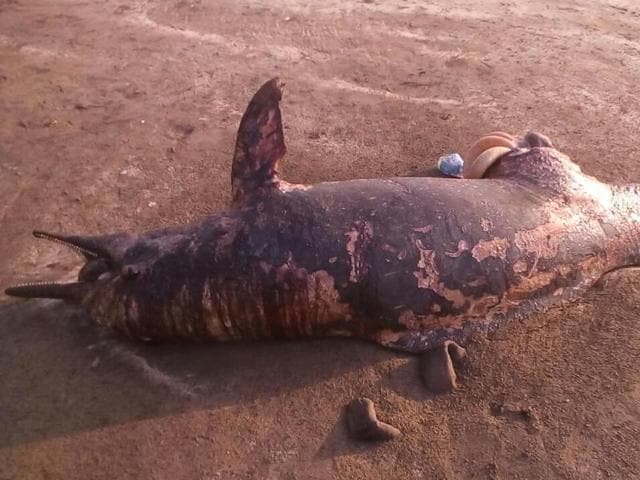 Carcass of 7-foot dolphin washes ashore in Mumbai
The carcass of a seven-foot Indo Pacific humpbacked dolphin washed ashore at Gorai beach on Thursday afternoon
UPDATED ON APR 22, 2016 01:01 AM IST
The carcass of a seven-foot Indo Pacific humpbacked dolphin washed ashore at Gorai beach on Thursday afternoon. This was the fourth such incident this year and the total number of reported cases increased to 12 over the past year.
According to forest officials, the dolphin's carcass had washed ashore between Palm Beach and Sun Beach at Gorai around 3pm. "After the spotting the dead mammal, the police informed the forest department that reached the spot by 4pm," said Ankit Vyas, volunteer, forest department adding, "There were no visible injuries on the dolphins body. It was clear that it had died more than 10 days ago."
Vyas added that the dolphin's internal organs had burst open from its mouth. "Owing to the body being heavily mutilated, we were unable to carry out a post-mortem. We buried the carcass at the beach where it was found on Thursday evening," he said.
A fisherman who had spotted the dolphin said that the likely reason for its death could be choking on plastic or an infection. "While fishing, our nets come out of the water with at least 50 bags of plastic. There have been a lot of mammal deaths in the deep seas because of plastic getting stuck on their body," said Dhananjay Koli, fisherman from Gorai.
Wildlife activists pointed out that despite numerous letters sent to authorities on such deaths, there has been no response. "There has not been a single reply from authorities either justifying or inviting us for a dialogue regarding marine wildlife conservation and management. The increasing number of incidents will only add to the disappointment of people and loss of several such majestic creatures," said Pawan Sharma, founder, Resqink Association for Wildlife Welfare (RAWW).
N Vasudevan, chief conservator of forest, state mangrove cell said, "At the moment, we do not have the required expertise to deal with instances of mammal deaths. However, along with veterinarians and experts from abroad, we have begun training local fishermen, villagers and forest officials to conduct post-mortems and file conclusive reports for causes of mammal deaths across Maharashtra."
Close