City college sets an example by recycling 100 kg waste daily
Updated on Mar 14, 2016 12:23 AM IST
Civic officials say they are encouraging residents to visit Vivekanand Education Society campus in Chembur to learn their waste segregation initiatives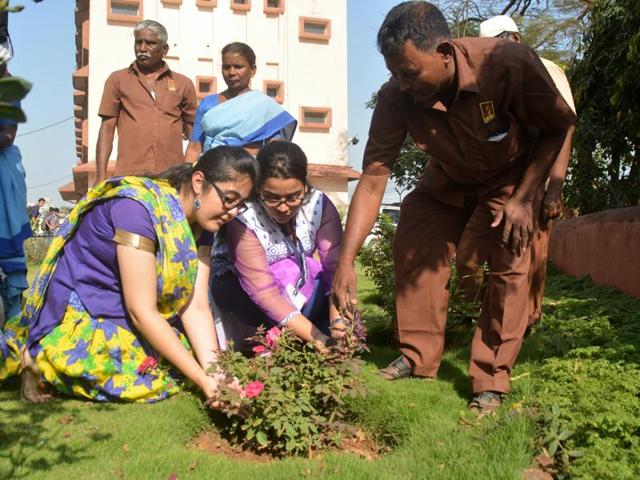 Six kilometers away from Deonar dumping ground, an educational institution has set an example for residents in the vicinity by sending zero waste to the landfill.
The civic body has recognised two campuses of the Vivekanand Education Society (VES), Chembur, as the first educational institutions in the city to recycle wet, dry and electronic waste, which is part of its solid waste disposal programme under the guidance of United Nations Development Program (UNDP).
The campuses, spread across four acres each, produce 100 kg wet and dry waste every day. Nearly 70 kg of biodegradable waste is segregated for composting, while the remaining 30 kg of dry waste is collected by NGO Shri Mukhti Sanghatna for recycling.
"The dry waste from the VES campus is collected by a vehicle (not dumper trucks) provided by the municipal corporation, while the wet waste is degraded at the campus itself. The combination of both makes the institution a zero waste campus," Harshad Kale, assistant municipal commissioner, M ward, Brihanmumbai Municipal Corporation.
"We have been inviting residents of M ward to see the project and replicate it in smaller ways at their households," he said.
In addition to horticultural waste such as garden clippings and dried leaves, a large amount of biodegradable waste comes from the canteens. The dry waste is collected from nine higher education institutes spread across the two campuses, schools, a junior college and their sports academy.
Dr Jayashree Phadnis, principal, VES, said, "The fire at Deonar dumping ground made it difficult for students and teachers to attend college. Awareness about treating our own waste is key to solving the solid waste management problems. Inspired by the project, staff members have begun composting wet waste."
The institute has spent Rs18,000 for the project that was started under the guidance of NGO Stree Mukhti Sanghatna in 2014. Three tons of organic manure has been generated so far. "The waste fed into each of the two compost pits (6ftx4ft) in a month is 1,800 kg. The quantity of compost produced every month is close to 130 kg that is used at football fields, gardens and potted plants," said Sunita Patil, coordinator, Stree Mukhti Sanghatna.
Electronic waste such as battery cells and other devices are collected and sold to scrap dealers every six months and the money is used to maintain the compost pits and provide water to the open grounds.
Patil added that the dry waste collected from the institute includes paper, plastic, fiber and glass. "The BMC van drops the dry waste at our Chembur office where it is segregated into eight categories and returned to industries or sent for recycling," she said.
"The daily news on Deonar dumping ground and hazardous chemical in the air around Chembur is a big concern. The best way to make the city care about the environment is through students and projects like these that will ensure a safer future for them," said Mahesh Tejwani, president, VES.
Personalise your news feed. Follow trending topics