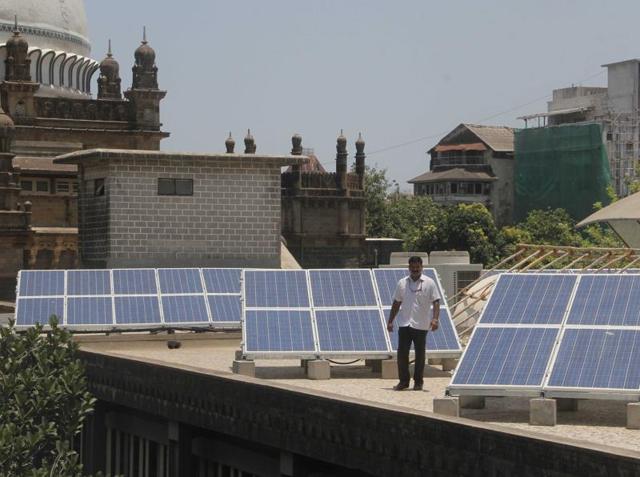 Mumbai museum shines with solar energy
Clean energy contributes to 5% of museum's electricity requirements and helps it save Rs6.5 lakh a year
PUBLISHED ON JUN 05, 2016 11:31 PM IST
Apart from garnering accolades for adding new galleries and bringing international exhibitions to art cognoscenti, city's largest museum, the Chhatrapati Shivaji Maharaj Vastu Sangrahalaya (CSMVS), has taken great strides to be eco-friendly by using solar energy to light up a section of its exhibits.
The museum, earlier known as Prince of Wales Museum of Western India which opened to the public in 1922, has been using solar photovoltaic (SPV) technology to power 5% of its electricity requirements and reduce its dependency on the conventional grid option. The 140 panels spread across two rooftops — 60 on one and 80 on the other — produce 35 kilowatts of electricity every month. They was installed in two phases: phase 1 in 2015 and phase 2 in 2016.
The museum's total power requirement is approximately 3,000 units per day and with the help of the solar power plant, nearly 140 units can be generated between 10am and 6pm on a sunny day. The museum's staff estimates that they save Rs6.5 lakh annually on electricity expenses.
"The effect of climate change is visible as temperatures are increasing every year. Rather than complaining about emissions, we decided to switch over to alternative forms of renewable energy by adopting solar power," said Sabyasachi Mukherjee, director general, CSMVS.
"We intend to increase the electricity produced through solar energy to 100 kilowatt in the future to reduce dependency on the grid by half."
"Grid and solar power currents run parallel so that clean energy is evenly distributed throughout the museum," Bhavdatt Patel, administrative officer, CSMVS, said, adding that the mueum plans to expand the project by setting up solar street lights in the museum compound.
"Solar radiation is converted directly into electricity by photovoltaic cells and the SPV technology works without producing any polluting by-products," added Patel.
Apart from the use of solar energy, the museum has been carrying out rainwater harvesting since 2008 and saves 3 lakh litres of water every year, which amounts to a total of 24 lakh litres of water till date.
With museum's terraces used as a catchment area, a pipe runs parallel to the building and is connected to a tank that stores water throughout the year. Rainwater is further used for maintenance of the museum's lawns and trees.
Close