Schools pick video books to drop bag weight
Published on Nov 22, 2015 01:14 AM IST
Schools are setting up full-fledged studios equipped with green screens and teleprompters on their premises, where the teachers face the camera to deliver 10-15-minute-long lectures, which are scripted to the last detail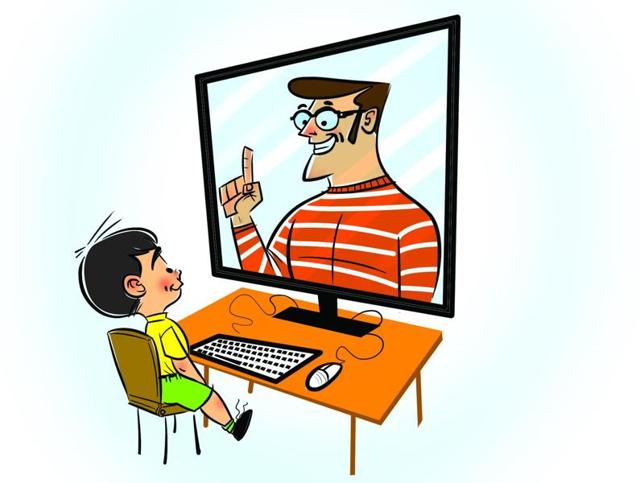 Every evening after school hours, students of RN Podar School, Santacruz, are glued to their computer screens at home, watching videos. An array of emotions – a smile, a guffaw, and brows knit in puzzlement – play on their faces as the video progresses and textbooks lay forgotten at study tables.
What has them hooked is not a Bollywood potboiler, but 'video books' of their teachers explaining concepts such as congruent triangles, convex and concave lens and chemical reactions, using animated diagrams, whacky one-liners and even breaking into songs.
But it's not just fun as questions from the teachers pop-up at regular intervals to test whether the students are paying attention. A wrong answer and the video automatically rewinds back to that concept.
This is one of the several 'flipped learning' concepts — lectures delivered through video books that must be viewed by students before and after school — used by schools across the country to lighten students' school bags. The classroom is largely meant only for assignments and hands-on learning, and students are not required to carry textbooks to school.
A pilot study by RN Podar found that a division of Class 6 students taught through the 'flipped learning' method, had 11.6% better recall of concepts, 9.5% more analytical understanding and 5.3% better application, with 64% more students scoring more than 80% as compared to their counterparts from other divisions who were taught using traditional methods.
Schools are setting up full-fledged studios equipped with green screens and teleprompters on their premises, where the teachers face the camera to deliver 10-15-minute-long lectures, which are scripted to the last detail.
Having adapted the model for the first time this year, for Class 7 and Class 8, Geeta Varsheney, principal, Khaitan Public School, Ghaziabad, said: "Our students are excited about the videos; all are viewing them dutifully. Teachers have even started losing weight, going for haircuts to look their best for the videos. After all, they are the heroines."
"Just making a child watch an animated video is not enough. A child might enjoy it, but will not learn anything from it. Hence, our videos are designed in such a way that they will fill children with questions, to which they will start looking for answers, both on their own and in the class, with the teachers," said Lohit Sahu, founder director of Phyzok, which is developing the content for many schools.
The concept is not just limited to the year's syllabus. The Central Board of Secondary Education (CBSE) has begun using video books for assisting 1,000 girls to clear the Joint Entrance Examination (JEE) to secure admission to the Indian Institute of Technology (IIT). "The advantage of video books is that it scales up the goodness of a teacher," said Sahu. "CBSE cannot afford to send good quality teacher to every state so they used this model."
At the Villa Theresa School, Peddar Road, close to 500 books in the library have been digitized, providing easy access to students. "Students can access the library from their homes, so they do not add to the weight of their bags," said a teacher from the school.
However, childcare experts warned against the pitfalls of excessive viewing of videos, especially at night. They fear it could affect the children's sleep cycle and make them less alert in class. A recent US study by Harvard Medical School researchers found that those reading on a light-device took on an average almost 10 minutes longer to fall asleep and said they were less sleepy an hour before bedtime than they were reading a paper book.
Corroborating the study, Dr Harish Shetty, senior psychiatrist, LH Hiranandani Hospital, Powai, said: "Excessive use of screens can negatively affect sleep and lead to exhaustion. It can also affect your memory."
According to academicians, 'flipped' classroom is also not an easy model. "Although the idea is straightforward, an effective flip requires careful preparation," said Reeta Sonawat, head, early childhood and human development, SNDT Women's University. "There is also the risk that students might not watch the videos or bunk classes as they might think nothing much happens in the class."
However, Avnita Bir, principal, RN Podar, said: "We have introduced checks in the video books that gives us data on the number of students who have watched it and also identifies the students who have not."
Personalise your news feed. Follow trending topics