'Quit clapping': Blue Ivy steals Grammys 2018 spotlight as she asks parents Beyonce, Jay-Z to calm down
Updated on Jan 29, 2018 09:18 AM IST
Beyonce and Jay-Z were clapping enthusiastically till daughter Blue Ivy decided they need to be brought to heel.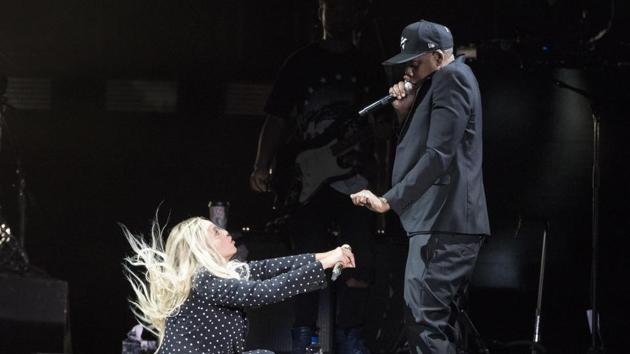 Jay-Z and Beyonce may be the superstars but it is daughter Blue Ivy who rules in the Carter household. The rapper and Queen Bey showed up at the Grammys 2018 red carpet with their 6-year-old daughter Blue Ivy, and she managed to steal the show.
Nominated for eight awards, Jay-Z was seated with his wife with their daughter in the middle. When the Carters started applauding, it was a tad too much for their daughter who asked them to calm down. Using the 'calm down' hand gesture, Blue Ivy nipped the enthusiasm of their parents quickly.
Twitter was quick to latch on to it…
Jay-Z was seen in an all-black suit, while Beyoncé wore a high-neck black velvet gown with cut-out shoulders. She accessorised her look with shoulder-length earrings, a black hat and purple lipstick.
Jay-Z was nominated for album of the year for 4:44, best rap album, song of the year, best rap song, record of the year, best rap/song collaboration, best music video and best rap performance.