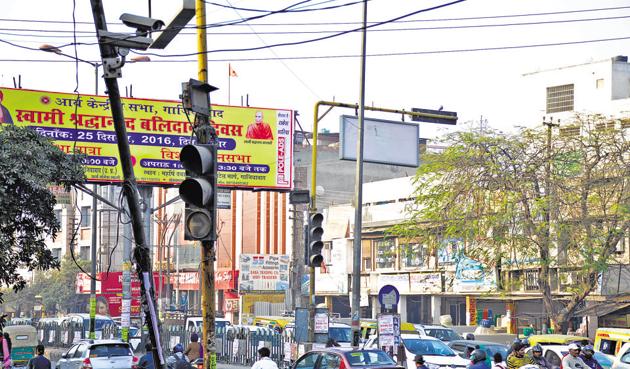 Divisional Commissioner to arrange funds for repairing Ghaziabad's defunct CCTV cameras
The decision was taken at the board meeting of the Ghaziabad development authority (GDA) held in Lucknow
UPDATED ON DEC 23, 2016 10:13 AM IST
In the board meeting of Ghaziabad development authority (GDA) held on Thursday in Lucknow before the likely announcement of model code of conduct for the upcoming assembly polls, the state officials have directed the divisional commissioner to form a committee to look into the possibilities of making the 'City outdoor surveillance system' (COSS) operational in Ghaziabad.
The system has 133 high resolution CCTV cameras installed at 36 strategic locations across the city to monitor and regulate the traffic from the modern police control room. However, the system has been lying dysfunctional since July 2015 due to non-availability of funds needed to pay for the annual maintenance.
"It was decided that a committee of different department officials will be formed under the divisional commissioner. The project is related to the state government and the proposal was also sent to state administration earlier. Now, the committee under the divisional commissioner will take up the issue with different agencies and decide upon the fund requirement," said Ravindra Godbole, secretary, GDA.
The proposal was put forward in GDA's board meeting held at Lucknow on Thursday and the authority seemed unwilling to contribute fund for the project.
"We were asked to provide finances for the project which amount to nearly Rs1.5 crore. Now, different departments will have to contribute and the proportion of funds will be decided by the divisional commissioner," he added.
The COSS was part of the modern control room and major LED screens were set up at the police control room for online monitoring of traffic, roadside parking, jam points and even crime activities. However, the system became dysfunctional as the annual maintenance contract would not be renewed and all CCTVs rendered useless.
"The proposal was sent long ago to GDA to get the system operational. Most of the CCTVs attached to COSS are not working properly at present. The annual maintenance cost comes to nearly Rs1.7 crore," said an official from the police control room.
The residents on the other hand said that there is lack of will on part of agencies to take up the issue which is of public importance.
"We have highlighted the issue several times and will also take up the issue with district officials in our next meeting. The system is vital for traffic management and needs to be restarted at the earliest," said Colonel TP Tyagi (retired), chairman of Ghaziabad RWA federation.
The dysfunctional COSS has 45 CCTV cameras which have a capability of 360 degree visibility while others are fixed position cameras.
Read more: Ghaziabad police identify 160 locations for CCTV cameras
Close