Ghaziabad: Hindon elevated road gets environment clearance, CM likely to inaugurate project
The road will serve as a six-lane, signal-free bypass for those travelling to Delhi from Ghaziabad and western UP areas. Once operational, commuters will be able to drive down from Ghaziabad to the Delhi border in the east in 15 minutes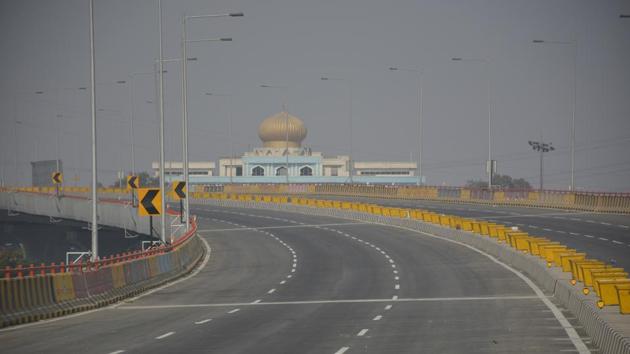 Updated on Mar 09, 2018 11:40 PM IST
The state environment impact assessment authority (SEIAA) on Friday awarded the much-awaited environment clearance to Hindon elevated road. With this, the road can be thrown open to the public. Officials said that they have urged the chief minister to inaugurate the 10.3km-long road.
With the environmental and legal hurdles over, the commuters will be able to get a signal-free connectivity to Delhi border. The project will serve as a six-lane, signal-free bypass for those travelling to Delhi from Ghaziabad and western UP areas. Once operational, commuters will be able to drive down from Ghaziabad to the East Delhi border in 15 minutes while maintaining the permissible speed of 80kmph.
The road, which is built on 228 pillars apart from the ground surface near Raj Nagar Extension, will also be a boon to travellers who will land at the Hindon airbase once regional flights commence operation from under the regional connectivity scheme. The road ends 1.5km away from the airbase.
"With the grant of environmental clearance, all hurdles have been removed. We have requested the UP CM to inaugurate the project. A decision is expected soon. The remaining work on rotaries, especially at Vasundhara, is being expedited and will be complete by end of May," GDA vice-chairperson Ritu Maheshwari said.
Work for rotary on the CISF Road at Vasundhara was delayed and may lead to congestion up to NH-24 once the road is opened. "We are going to hold a meeting to chalk out a traffic management plan in case there is congestion at the CISF Road due to rotary work," Maheshwari added.
Completion of the Hindon elevated road was scheduled to get completed by April 2017. The work was delayed due to several factors, including shifting of high power transmission lines, delayed construction of a rail overbridge near Vasundhara, and litigation with made obtaining an environmental clearance a prerequisite for the project.
Ghaziabad resident Sushil Raghav had moved the National Green Tribunal flagging environmental concerns. On January 4, the tribunal had directed Ministry of Environment, Forests & Climate Change to decide the issue for grant of EC within a month. The ministry directed the GDA to approach the SEIAA. The EC was finally granted to the project on Friday after it was cleared by the state level expert appraisal committee meeting held on February 24.
This is the first elevated road in Ghaziabad and was completed at an estimated cost of ₹1,147 crore.
Close Story