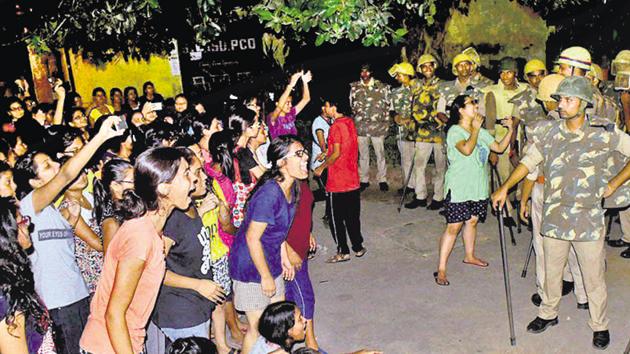 From JNU to BHU: How women's safety is being compromised on campuses
On September 18, Jawaharlal Nehru University's executive council arbitrarily dissolved the elected Gender Sensitisation Committee Against Sexual Harassment (GSCASH). In Benaras Hindu University, which is witnessing a stand-off between students and authorities over a sexual harassment complaint, the demand for a similar panel are being stonewalled and met with suspicions of conspiracy and attempts to defame the university, and violence.
By Albeena Shakil
UPDATED ON SEP 25, 2017 12:42 PM IST
The laws of our country require that a time-bound inquiry be initiated by a dedicated committee into any allegation of sexual harassment of a woman at any workplace, including of a student at any university. However, the difficulty of eliciting this seemingly simple and mandatory response is being witnessed in the Banaras Hindu University (BHU) today, where demands for the formation of Gender Sensitisation Committee Against Sexual Harassment (GSCASH) for inquiry into an alleged incident of sexual harassment are being stonewalled and met with suspicions of conspiracy and attempts to defame the university, and violence.
Elsewhere, on September 18, JNU's executive council arbitrarily dissolved the university's elected GSCASH, the first anti-sexual harassment committee of the country since 1999. It was replaced by a nominated Internal Complaints Committee (ICC), purportedly based on a UGC Regulation notified in 2016 that is a modified version of the Sexual Harassment of Women at Workplace (Prevention, Prohibition and Redressal) Act, 2013.
The latest move has added another chapter to the saga of woes in JNU, where its best and most innovative practices are being undone systematically. A few years ago, the Lyngdoh Committee Recommendations of 2006 hailed the JNUSU elections as a model. But in a curious twist of events, the very same elections were suspended between 2008-11, only to be restored in a truncated form; even while the efficacy of the recommendations in curbing money and muscle power elsewhere remains suspect.
Recently, the university with over 60% research scholars in its student composition experienced a drastic 83% seat-cut for research, even while the country as a whole is contending less than 0.5% enrollment in research. A motivated misreading of the UGC's 2016 Regulations on Minimum Standards and Procedure for Award of M.Phil/Ph.D degrees, whereby, minimum standards were interpreted as maximum standards, led to everything more or better in JNU being stopped.
Teachers and students of JNU are already embroiled in a series of legal battles against their own administration. Regular controversies over bludgeoning of dissent within internal decision-making bodies have become matters of public knowledge. The manner of administering does not appear to be tempered by any desire to earn the trust and support of the university community.
The dissolution of the GSCASH has happened in this backdrop of growing mutual distrust. The basic purpose of any sexual harassment committee is to engender confidence in aggrieved women to come forward with their complaints for redressal, without fear of reprisals. However, this basic purpose now stands jeopardised. The undue haste shown in trying to seize GSCASH records without even a semblance of maintaining an inventory or following any formal handover process has raised further suspicions. Perhaps more is yet to unfold in this story.
On September 21, the Delhi High Court ordered that the office of the GSCASH remain sealed till the next court hearing. But the main issue at hand is whether the GSCASH was in contravention of any law of the land that required such a drastic action as its dissolution? Why could concerns, if any, not be referred to the GSCASH itself, when the body has evidently revised its Rules a couple of times since its inception, including after the enactment of the relevant Act in 2013?
The answer seems to lie in the elected rather than nominated composition of GSCASH. The limitations of nominated inquiry committees in the RK Pachauri case as well as what was stitched together in the wake of the Tarun Tejpal case are hidden from none. ICCs are often at the mercy of their employers, especially when the accused are either seniors or the employers themselves. By contrast, the GSCASH and many other such bodies across several universities comprise of members directly elected by students, teachers, staff and employees.
The advantages of such innovative composition are many. The primary accountability of such committees lies with the university community, which does not hamper their capacity to also work with the administration. Moreover, elections involve wide participation for devising effective ways to combat sexual harassment, with the process itself being no less than a massive gender sensitisation campaign. And as stakeholders, the communities can also act as a counter-weight to pressures from above.
The question of pre-existing elected anti-sexual harassment committees was also considered in the 239th Report of the Parliamentary Standing Committee on HRD. It recommended that since many universities had already passed statues instituting elected committees, they be enabled to continue. The GSCASH was also appreciated by the Justice Verma Committee. The reckless act of dissolving the GSCASH has put the safety of women in the university at risk who have been deprived of the option of approaching a trustworthy committee in event of sexual harassment. And such repeated imbroglios in JNU over its best practices also raise broader concerns over the myopia of such retrogressive misadventures.
Albeena Shakil is assistant professor of English, Jindal Global Law School
The views expressed are personal
Close