India's Covid story can guide health action plans at G20
Updated on Jan 16, 2023 01:16 PM IST
As the G20 deliberates upon its action paths in health, India looks forward to sharing its experience of turning a major health crisis into a window to new horizons. This will help the world of today fight the challenges of tomorrow.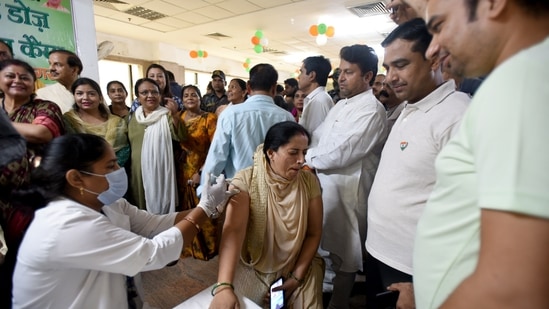 As the world emerges from the difficulties that the Covid-19 pandemic brought with it, there are important lessons that must be learnt to navigate the future. This is why the prevention of health emergencies, preparedness, and response are top priorities for India at the helm of the G20 grouping.
When the pandemic began, countries and global communities (including the World Health Organization) responded to the unprecedented crisis with their best judgment. However, with 20-20 hindsight, several glaring gaps appear, especially inequities in access, be it medicines or later, vaccines.
First, prevention. Preventing a pandemic is unlikely, but as the Covid-19 story has shown, effective vaccines can reduce deaths. However, a pandemic-causing pathogen may not necessarily lend itself to a vaccine. While on the one hand, we had several vaccines that proved effective against Covid, on the other, we are still struggling to develop an effective, scalable vaccine for say, HIV. In this regard, India's story will be inspirational for the G20 grouping. In the race to develop, manufacture and roll out Covid-19 vaccines, India's narrative of Atmanirbharta (self-reliance) and Atma Vishwas (self-confidence) worked wonders.
India's scientific journey for the development of the Covid-19 vaccine started on March 11, 2020, when the National Institute of Virology isolated the Sars-CoV-2 virus. This virus was shared with Bharat Biotech to create a vaccine candidate. In eight months, an inactivated virion vaccine (Covaxin) received emergency-use authorisation (EUA) on January 3, 2021. The same day, Covishield, an adeno-vectoral vaccine developed by AstraZeneca and manufactured at scale by the Serum Institute of India, was also granted EUA. The world's largest vaccination programme, which began on January 16, 2021, was powered by these two vaccines.
India also developed other vaccines. The first-ever DNA vaccine (Zycov-D) was developed after a clinical trial on 28,000 subjects. Additionally, a protein subunit vaccine (Corbevax), a thermo-stable mRNA vaccine (Gemcovac), and an intranasal adeno-vectoral vaccine (iNCOVACC) were developed. India also manufactured the Sputnik-V vaccine of Russian origin, and Novovax of American origin.
And so, today, India's vaccine wallet has as many as 10 made-in-India vaccines. Similarly, India's vaccine bouquet has a wide range of platforms, encompassing inactivated virion, adeno-vectoral, protein sub-unit, DNA, mRNA and nanoparticle technologies — another unique distinction. Our current capacity to manufacture Covid-19 vaccines exceeds five billion doses per annum.
India's vaccine development was supported by government funds and institutions. Under Mission Covid Suraksha, generous research and development (R&D) funds were advanced for as many as five vaccines.
More than 2.2 billion doses have been administered in the country. A staggering 98% of India's population, in the age group of 12 and older, has been administered one dose, and 92% has received two doses. Vaccines have reached every corner of India via trucks, jeeps, motorcycles, aircraft, boats, camels, drones, and on foot.
India's public health system re-engineered itself for this mammoth mission, with 97% of vaccines having been administered for free through the government health system. Private-sector vaccine delivery accounted for less than 3% of the total vaccines administered, and at one point, over 100,000 vaccine centres were operational. On September 17, 2021, a record 25.1 million doses were administered in a single day. Because of mass awareness drives, India overcame early-stage vaccine hesitancy and people slowly got on board.
Technology also played a huge role in access, through its online portal, CoWIN, which traced, administered, and confirmed vaccinations. India used digital infrastructure to create and support vaccination access, facilities, and analyse data. CoWIN is now being programmed to be used in routine immunisation programmes and for blood and organ donation systems.
The government (at the central and state level), scientists and industry formed Team India. Above all, Prime Minister Narendra Modi led from the front and encouraged the scientists and industry by even going as far as to visit vaccine manufacturing units.
A study published in Lancet reported that India's vaccination programme between January 2020 to December 2021 may have averted 3.4 million deaths. ICMR data shows that Indian vaccines were over 99% effective in preventing mortality.
India supplied more than 250 million doses of vaccine to over 100 countries as part of the Vaccine Maitri initiative in the spirit of Vasudhaiva Kutumbakam (the world is one family).
India's vaccine story is a remarkable inspiration for the G20 agenda in shaping the outcomes of each one of its three health tracks: One, health emergencies prevention, preparedness and response, with a focus on one health and antimicrobial resistance. Two, strengthening cooperation in the pharmaceutical sector with a focus on availability and access to safe, effective, high-quality and affordable medical countermeasures (vaccines, therapeutics, and diagnostics). And three, digital health innovations and solutions to aid universal health coverage and improve service delivery.
The pandemic has taught us that none of us are safe until all of us are safe. As the G20 deliberates upon its action paths in health, India looks forward to sharing its experience of turning a major health crisis into a window to new horizons.
This will help the world of today fight the challenges of tomorrow.
Dr VK Paul is a member of NITI Aayog
The views expressed are personal
This Republic Day, unlock premium articles at 74% discount
Enjoy Unlimited Digital Access with HT Premium
Topics