India's values, culture can lead the world in science
Feb 04, 2023 07:53 PM IST
India took on a key position on the world stage by assuming the presidency of the G20. This year, the country will aim to provide leadership to a group of countries that comprises 85% of the world's GDP and 60% of its population. Doing so will require vision, determination, and courage. Over the next few weeks, top leaders and experts from across sectors will weigh in on how to spark transformative global change. Today, Vivek Wadhwa writes on the strides that research can make in India
After losing my dear wife, Tavinder, to cancer in June 2019, I made it my life's mission to do what she asked: Prevent others from suffering the way she did. She knew I would be devastated without her, and the only thing that would keep me going was to help others. So, with the assistance of the leading oncologists and medical researchers who tried to help me save her, I prepared a grand plan to cure cancer, which incorporates the exponential technologies that I teach in Silicon Valley, such as genetic sequencing, machine learning, advanced sensors, and synthetic biology.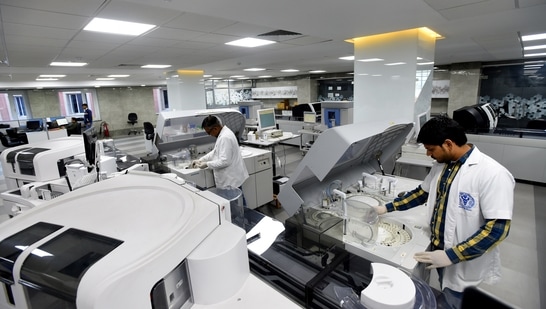 The plan was to launch the largest clinical trial in world history, one that would help hundreds of thousands of cancer patients by providing them with the most advanced treatments, with global experts reviewing every case. It entailed collecting genetic data and bio-samples; creating 3D organoids so that the tumour would be the guinea pig rather than the patient; and open-sourcing select and anonymous data to enable researchers around the globe to do what the medical industry's secrecy prevents them from doing: Developing cures.
The problem was that such a plan could not be implemented in the United States because of the vested interests in maintaining the status quo and protecting the profits of the medical industry. So, I turned to India.
Why India? Because India's culture and values embody a fundamental belief in a human-centric approach to technology, knowledge-sharing, and uplifting humanity. There are many roadblocks in India, but its deep-rooted spiritual values triumph. This became evident in the meeting I had with Prime Minister (PM) Narendra Modi in October 2019, when he pledged his wholehearted support to the grand plan, and then again in a follow-up meeting on January 14 at his residence.
India has another asset: Philanthropists and industrialists with the highest ethical values. The person I consider one of the leading humanitarians of our times, Ratan Tata, and the Tata Group ended up partially funding a project that Tata's former lieutenant and head of Tata Trusts, R Venkat, presented to them to overhaul India's cancer-care system. Venkat and his co-founder and medical director, Moni Abraham Kuriakose, asked me to work with them to implement a distributed cancer-care network to guide patients through the entire cancer treatment process.
Karkinos Healthcare, the company they started, demonstrates India's unique ability to solve global problems. It has made more progress in two years than the West could have made in a decade.
As Keith Flaherty, director of clinical research at Massachusetts General Hospital Cancer Center and Harvard Medical School, told PM Modi during our meeting, India is about to leapfrog the US in cancer research. In his words: "There is no other organisation on the planet that can integrate cutting-edge, patient-facing digital tools and molecular diagnostic platforms to navigate patients for current therapies while also guiding the discovery and development of the next generation of therapies." He told the PM that US academic medical centres are not even close to being able to do such things because they will never have the free flow of information between clinical care and research environments.
Gary Reedy, the former CEO of the American Cancer Society, said to the PM: "Because India has no vested interests to protect and has a culture of giving and sharing, it can do what the West only dreams about".
This is also why I am working on having another company I have long been mentoring bring its agriculture technologies to India. Founded in Santiago, Chile, the company, Plasma Water Solutions, has made breakthroughs in replicating the magic nature uses to nurture and protect its flora: Plasma-activated water (PAW), which results when lightning (plasma) passes through air and water. The company's devices, with the power consumption of a hairdryer, convert air and water into PAW without any chemicals or residues.
A single application of PAW can kill almost all plant bacteria and pathogens. PAW also provokes plants to activate natural defences against predators and accelerates seed germination and seedling growth. The devices can generate nitrate species and nature's fertilisers through software-controlled modulations.
The results of six months of testing on farms across America have been extremely successful. When vegetables are washed with PAW, they resist fungal infections. And merely treating seeds in PAW dramatically increases their germination and growth rates. In a single season, per acre melon yields have increased by an additional hundred boxes of fruit, and spinach and sorghum per acre yields have each increased by some 450 kg. And this is all organic.
As Plasma Waters CEO Robert Hardt and founder Alfredo Zolezzi said, one of the reasons for their making India a priority is the country's openness to tech-enabled development in sectors ranging from agriculture to education.
This is why India's leadership of the G20 comes at such an opportune time. The world is suffering from widespread inequality and an industrially induced climate crisis, and India has the ability to solve such global problems without creating more of them.
As the PM said to me in a tweet thanking me for our visit, India is brimming with enthusiasm in science and technology, with its youngsters leveraging the power of science to make our planet better.
Vivek Wadhwa is an academic, entrepreneur, and author
The views expressed are personal