West Asia: The parable of two Mohammeds and what it means for India
Jul 28, 2021 07:41 PM IST
India has growing bilateral ties with both Saudi Arabia and the UAE, our third- and fourth-largest trading partners and among our top five oil suppliers
The blink-and-you-missed-it meeting on July 19 in Riyadh between crown prince Mohammed bin Salman (MbS) of Saudi Arabia and Crown Prince Mohammed bin Zayed (MbZ) of Abu Dhabi was an event as banal as it was profound, depending upon where one looked.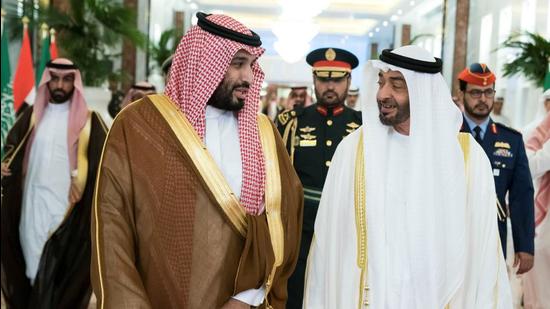 At a superficial level, it was de facto leaders of two neighbouring states meeting to exchange Eid al-Adha greetings. However, as the two have not been seen together in public since November 2019, this was more than a festive gesture. Saudi Arabia and the United Arab Emirates (UAE) have plenty of duality in their ties. While they have a lot in common, there are also significant differences. They are largely absolute Sunni monarchies with a low threshold for political discourse, be it Arab nationalism, the Arab Spring, the Muslim Brotherhood or the export of Iran's Islamic revolution. They are both pro-West, oil-based economies, professing free market, with a strong role for the public sector. Although sharing the long-term goal of economic diversification from oil, they also realise that global oil consumption may peak soon and are busy ramping up production before the value of the commodity erodes.
Stay tuned with breaking news on HT Channel on Facebook.
Join Now
Ironically, several of these commonalities have, in turn, triggered their geo-political and geo-economic competition. Till 2019, MbS and MbZ pursued a common agenda of curbing the al-Houthis of Yemen and isolating Qatar. However, lately, mutual differences have stymied both these campaigns: The UAE withdrew its forces from Yemen in 2019 and armed a separatist militia in the south, complicating Saudi's exit strategy from an unwinnable conflict now in its sixth year. While the campaign to isolate Qatar was led by the UAE in 2018, the Saudis called it off at the al-Ula Gulf Cooperation Council (GCC) Summit earlier this year — an event MbZ pointedly did not attend.
Meanwhile, the UAE has also pursued an aggressive foreign policy marked by normalising ties with Israel, warming up towards Iran and supporting rebels in Libya. This unilateralism has upended the Kingdom's relatively staid foreign policy.
Lately, their economic competition has also been driven by mutual antipathy. Saudi Arabia, the world's biggest oil exporter and the Arab world's largest economy, decided that from 2024 it would award government contracts, under MbS's $2 trillion Vision 2030 only to those multinationals with regional headquarters in the Kingdom, cajoling them to relocate mostly from Dubai. Riyadh has also recently imposed several restrictions on the movement of goods and persons from the UAE. On other hand, the UAE demanded a higher oil production quota earlier this month, disrupting the Saudi-Russia OPEC+ consensus. This led to a rare bilateral row in public. The revised production-sharing agreement was reached only on the eve of MbZ's visit to Riyadh.
Against this backdrop, MbZ's dramatic journey to Riyadh last week acquires significance. While the anodyne press statements offer scant clues about its outcome, the effusive public praise of the Kingdom and MbS by MbZ, and the laconic replies from the other side, hinted that the visitor was on a fence-mending mission. Given the deliberative style of Saudi diplomacy, the bilateral space needs to be watched over the next few months for a reset in their ties.
A genuine MbS-MbZ reconciliation can have profound implications. It can reduce the Gulf's geopolitical volatility and stabilise the global oil market by allowing OPEC+ to expand production gradually. A winding down of the Abu Dhabi-Riyadh competition can revive the GCC, allowing it to unlock longstanding regional stalemates such as Yemen, Afghanistan and Iran. It can also prevent some players from pursuing a divide-and-rule strategy in the Gulf.
India has growing bilateral ties with both Saudi Arabia and the UAE, our third- and fourth-largest trading partners and among our top five oil suppliers. Taken together, in 2019-20, they accounted for $90 billion of trade and nearly $24 billion in remittances for India from our five-million-strong diaspora. They have also emerged as major investors in India, often acting in concert, particularly in the oil sector. Their coming together can only help our attempts to leverage the growing economic ties with these two neighbours in the post-Covid-19 era.
Mahesh Sachdev is a former ambassador
The views expressed are personal