Why Bihar CM Nitish Kumar is rocking the alliance boat but not sinking it
Jun 28, 2017 08:42 PM IST
Nitish Kumar is worried that Prime Minister Narendra Modi will return in 2019 and Lalu Prasad will stake claim in Bihar the year after. And that could leave him nowhere.
The heat in Patna last weekend was far less oppressive than it was in New Delhi. But Sushil Modi, the BJP's tallest leader in Bihar and the leader of the Opposition, insisted that chief minister Nitish Kumar was feeling stifled.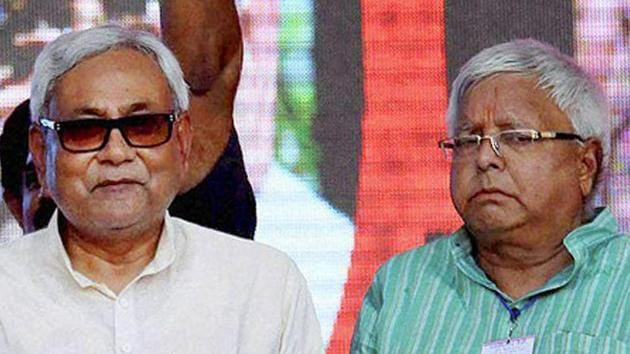 Nitish's discomfiture apparently has less to do with the weather and more with his alliance with Lalu Prasad's Rashtriya Janata Dal (RJD).
The two had come together to stitch an alliance ahead of the Bihar elections two years ago and succeeded in snatching an unexpected victory over the BJP-led NDA. But political speculations have always swirled over their rocky relationship. The talks have gained further momentum since Nitish chose to break ranks and support Ram Nath Kovind as the NDA's presidential candidate, instead of the Opposition nominee Meira Kumar.
Nitish decided in favour of Kovind within hours of his name being announced by the BJP. Though abrupt, the timing was a deliberate. He let leaders such as Prasad know he still was the master of his own decision. His hurried announcement even before the Opposition could decide on Meira Kumar saved him political pulls and pressure.
There has never been any doubt that Nitish is a shrewd politician. His support for Kovind ruffled many, including Prasad's RJD and several of its leaders came out swinging against the chief minister, condemning him as a 'habitual betrayer'. Nitish's close aide KC Tyagi set off more chatter, dropping hints of future realignments by recalling aloud that the "BJP had never made us feel uneasy at any stage". Nitish, incidentally, partnered the BJP for 17 long years until he parted ways in 2013.
The controversy over Kovind isn't an unintended collateral damage, but rather cleverly calibrated and choreographed by the chief minister. Saddled with an ally such as Prasad who has foisted two of his sons – one as the deputy chief minister and the other as a minister – Nitish expectedly will make noises to reaffirm his 'independence' until he makes up his mind on his future course.
The real source of tension is political. Besides Prasad's tainted image, the burden of which the chief minister is forced to carry, his worries are about 2020 when the state goes to the polls next. Prasad is the bigger partner numerically in the alliance. Yet he settled for Kumar as the face since he was legally barred from contesting. But next time around, he may want his son Tejaswi as the CM.
Nitish would not have cared much had he been confident of becoming the Opposition's PM candidate in 2019. But that's unlikely, given the disarray in the Opposition ranks. Nitish, therefore, is worried that Prime Minister Narendra Modi will return in 2019 and Prasad will stake claim in Bihar the year after. This will leave him nowhere.
This explains why the chief minister is hedging, while silently seeking to rebrand himself as a 'social reformer'.
Limited by what is described as Prasad's interference and influence over the administration, the chief minister is charting a different course: First was his decision to clamp prohibition, which he now plans to follow up by proposed campaigns against the prevalent practices of dowry and child marriages.
A calculating Kumar is hoping to keep his constituency intact as he contemplates his next move. Will he carry on with Prasad, or will he ditch him for the BJP? The wily politician even has Sushil Modi, who has worked as his deputy CM for eight years and known him for four decades, guessing. For now, Nitish is rocking the boat but not allowing it to sink.