Why Chandigarh, India's best planned city, went under after three hours of rain
Updated on Aug 22, 2017 06:08 PM IST
The unprecedented water-logging shines light, decidedly poor, on the governance deficit in Chandigarh and Mohali, both billed as the smart cities in the making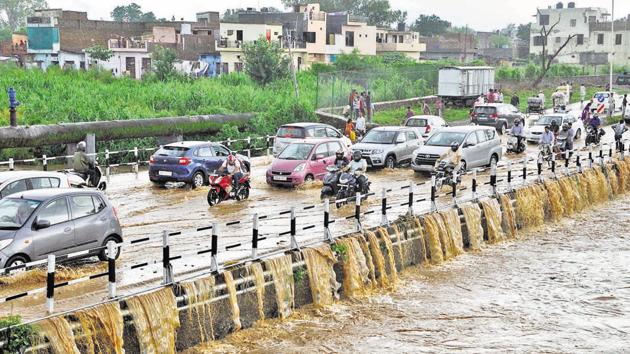 Natural mishaps have an uncanny way to expose all that is wrong with India's urban planning and infrastructure. Monday's unusually heavy rains, heaviest in 16 years, starkly did that reality check at an unlikeliest of places: Chandigarh, the country's first and, arguably the most, well-planned city since Independence.
A 115-mm downpour in just three hours morphed the much-acclaimed 'City Beautiful' into an ugly chaos that its denizens had scarcely ever imagined.
In no time, the swirling, muddy waters turned wide, leafy avenues into pools, choked main arteries and well-manicured roundabouts and swamped the upscale sectors. The peak-hour Monsoon misery wreaked the worst traffic gridlocks that Le Corbusier's designer city had not seen in its living memory.
If alive today, the French genius would have been aghast to see the flood-like emergency in his famed masterpiece and co-capital of Punjab and Haryana. The rain-induced mess in the Union Territory was no less worse in its immediate neighbours — Mohali and Panchkula, the satellite towns built on the same grid as Chandigarh as showpiece counter-magnets by two states respectively.
The Monsoon mess glaringly laid bare the shortcomings in futuristic planning and upgrade of the tricity's drainage system that was put in place for a much-smaller population base years ago. Chandigarh's natural storm water channel, the Northern Choe, for instance, hasn't been cleaned up for last two decades.
In Mohali, on a lower gradient than Chandigarh, a project to replace the inadequate storm water pipes with ones with more carrying capacity has been a hanging fire for five years.
A pre-monsoon audit, extensively reported by Hindustan Times in June, had revealed major gaps and missed deadlines even in such basic annual preparedness as cleaning up of the road gullies. In Mohali, more than half of the gullies were left clogged, officials admit now. The harried residents whose homes were deluged out of the blue are now suing the municipal corporation for compensation.
Not that their civic bodies face scarcity of funds. Rather they are flush with money as evident from crores of rupees of unspent budget of the Chandigarh municipal year after year, thanks, largely to bureaucratic sloth. In fact, the failure to utilise the funds for capital creation led to a slash of Rs 170 crore in its current plan.
The unprecedented water-logging shines light, decidedly poor, on the governance deficit in Chandigarh and Mohali, both billed as the smart cities in the making.
Paradoxically, these planned, and pampered, urban centres with a better infrastructure than other cities in the region, synonymous with squalor, are under a growing population pressure due to their high livability index. Chandigarh, originally built for half a million, is now teeming with 1.5 million. This has spurred rapid-fire urbanisation in its periphery, much of it haphazard, blocking the natural drainage and thus making the city and suburbs prone to water-logging of a rising scale.
Faced with a swell of public outcry, civic officials' first reaction to the monsoon mayhem was to water it down by blaming it all on the weather gods for pouring too much rain in too short a time span. But, it's a wake-up call they can ill-afford to ignore. Even the best planned city needs to smarten up its governance and put its act together to justify the tag of 'Smart City'.
ramesh.vinayak@hindustantimes.com
Personalise your news feed. Follow trending topics