2018 Commonwealth Games: India women's hockey team bounces back, beats Malaysia
India women's hockey team, who lost to Wales in the opening encounter of the 2018 Commonwealth games, bounced back with a 4-1 win over Malaysia in their next encounter.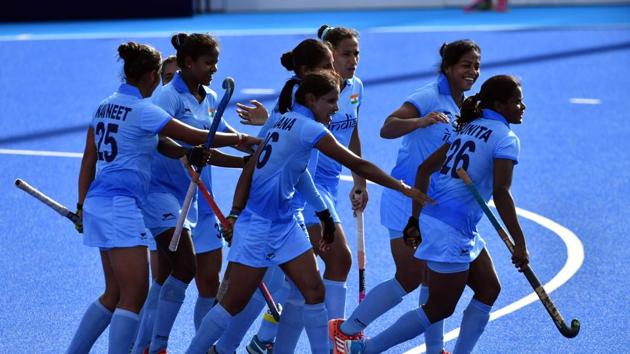 Updated on Apr 06, 2018 06:26 PM IST
Hindustan Times, Gold Coast |
B Shrikant
Coach Harendra Singh's pep talk, after been stunned by Wales in the opening encounter, worked as the Indian women's hockey team bounced back with a better performance with a 4-1 win over Malaysia in the second round-robin match in the Commonwealth Games on Friday.
The Indian girls were too complacent and profligate as they missed chance after chance to lose to Wales.
However, on Friday, there still were some jitters as India scored as early as the sixth minute but then were thwarted repeatedly by the Malaysians for more than 30 minutes of the match. Malaysia leveled the score before the Indians woke up in time to sound the board three times to seal victory.
Penalty corner specialist Gurjit Kaur struck a brace while skipper Rani and fellow forward Lalremsiami scored a goal each for India while Rashid Nuraini got the equaliser for Malaysia.
It was a good result for the team as they had to win all their matches to remain in hunt for a spot in the semifinal. England is expected to top the table in this group as they are highest ranked team here. Having won the gold in 2002 in Manchester, their fortunes nosedived in later editions, finishing fifth in 2014. The team has created a number of chances against Wales but could not convert many chances.
Against Malaysia, India went ahead in the sixth minute and though Malaysia made it 1-1 by scoring through Rashid in the third quarter, India pumped in three goals in the last 20 minutes to seal victory.
Skipper Rani was quite relieved after bouncing back from Thursday's setback. "It was quite a bad day, but in sport sometimes you lose and we now have to bounce back. Today our defensive structure was good and we played a controlled game," she said.
"We were quite bad (against Wales) and that does not reflect our rankings. The coach was very angry and later asked us to just forget that match and concentrate on the remaining matches," said senior player Deepika.
Close Story