'Bunch of ungrateful fans': Why Ronda Rousey won't return full-time to WWE
Ronda Rousey had a stellar run with WWE. But the 'Baddest Woman on the Planet' has made it clear that she won't return full time to WWE/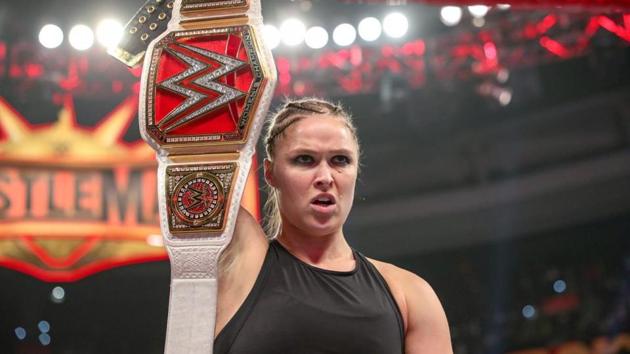 Updated on Apr 12, 2020 03:36 PM IST
Hindustan Times, New Delhi |
HT Correspondent
Former UFC Bantamweight Women's Champion Ronda Rousey had a great start to her WWE career in 2018. The 'Baddest Woman on the Planet' made her debut on Royal Rumble 2018, and then teamed up with Kurt Angle to take on Triple H and Stephanie McMahon at WrestleMania 2018. As she laid heavy blows to The Game, the WWE Universe roared in adoration. But soon, as often happens in WWE, the fans turned on Rousey, and after her SummerSlam match against Charlotte in 2018, Rousey was booed out of the stadium.
At 2019 WrestleMania, Rousey her Raw Women's Championship belt to Becky Lynch and since then, has been away from WWE. In a recent appearance on Wild Ride podcast, the former MMA athlete explains why she left WWE, and why she would never make a permanent return.
Also read: Charlotte Flair- Greatest ever female superstar in WWE, that's what she said
"What am I doing it for if I'm not being able to spend my time and energy on my family, but instead spending my time and my energy on a bunch of f****** ungrateful fans that don't even appreciate me?
"The thing is, I love performing. I love the girls. I love being out there. "But, at the end of the day, I was just like, 'F*** these fans, dude.' My family loves me. They appreciate me. I want all of my energy to go into them."
She further added: "People think you're only wrestling as much as they see you on TV, but they don't realize that there's three or four other days of live shows during the week. If I looked at all the live shows, I was only home a day and a half a week. It was just not worth it for my family … No, I'll never be full time again – over 200 days a year on the road like that ever again."
As expected, Rousey's shoot interview on fans has not gone down well with the women's roster on WWE, and lot of superstars including Lana, Alexa Bliss and Nia Jax have slammed the former UFC Champion for her remarks. But, Rousey showed no signs of emotions, and in a latter post, called WWE "fake fights". "Yes, I understand, wrestling 300 days a year for years on end is incredibly tough on the body and a difficult profession -- but do you know what would happen if you got in 300 REAL fights in a year? You would be dead," she wrote on Twitter.
Also read: WWE announce release of three-time tag team champions
Another interesting tid bit to note here is that many fans are discussing if Rousey is "really" angry at the fans or is it some sort of work angle. Well it could definitely be a WWE angle, as it would give the former UFC star massive heat from WWE fans. That being said, Wrestling Observer Radio's (h/t Ringside News) Dave Meltzer has reported that Rousey is indeed angry at the fans as well and it's not all a work.
"It's not a work. I knew when the Los Angeles fans booed Ronda Rousey and when that Charlotte Flair angle happened. Where Charlotte Flair turned heel on her and they all cheered for Charlotte Flair and they were chanting 'you deserve it' when Charlotte beat the hell out of her and she took that beating to get the angle over so the fans would have something believable and the fans changed 'you deserve it at her.' I knew that at that point everything changed," Meltzer said on his podcast.
Close Story
Personalise your news feed. Follow trending topics