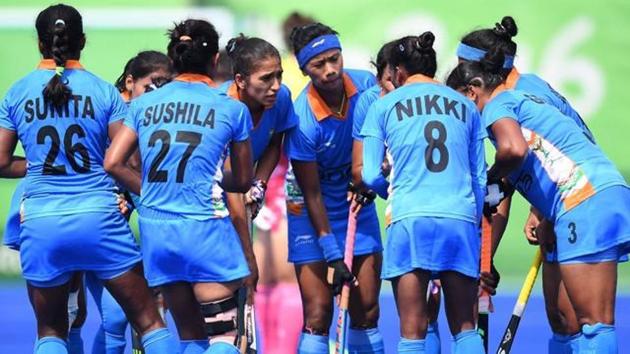 Commonwealth Games 2018: India women's hockey team upbeat despite mixed results in warm-up games
India women's hockey team, which won gold in the 2002 Manchester Commonwealth Games, registered a victory in a warm-up game against a local side but lost to Canada in another in their final build-up for the Games, which starts on April 4.
UPDATED ON APR 02, 2018 09:12 AM IST
Despite mixed results in two practice matches, Harendra Singh, coach of the Indian women's hockey team, is confident of his team's chances in the Commonwealth Games 2018.
India defeated a local Queensland side 5-0 in their opening warm-up match on Saturday but lost 1-3 to Canada on Sunday.
The match against Canada was played with lot of restrictions like no penalty corners, and Harendra thus does not give it much importance. However, he was happy with the workout his team got and is looking forward to another shorter outing on Monday.
"The team is coming up well and I am quite hopeful of their performance. Qualifying for the knockout rounds is our first aim," Harendra said on Sunday.
READ: Commonwealth Games 2018: Doping probe keeps Indian camp on tenterhooks
India is the only team other than Australia that has won the Commonwealth Games gold, in Manchester in 2002, and Harendra and the players feel the pressure of expectations. "The pressure is there as we are the only other country besides Australia to win the gold. But the girls have shaped up well and I am very hopeful," he added.
One of the reasons for Harendra's optimism is that local conditions are quite conducive to the Indians. "The current temperature here is just like what we faced in Bangalore, so conditions should not be a problem – they actually are the same as back home. The facilities are great, the turf is new and quite fast, which I think will help us," he added.
READ: Commonwealth Games 2018: Indian women's relay team's hopes run into trouble
Harendra, who earlier guided the junior men's team to World Cup in late 2016, is enjoying the challenge of coaching a women's team for the first time. He said he had adapted to the changes and introduced scientific coaching methods for the girls. Usually a very vocal and passionate coach, Harendra has curbed his instincts in his current assignment.
One just hopes the efforts pay dividends and India add another medal at the Games.
Close