How Mary Kom balanced life between Parliament and the boxing ring
Hindustan Times, New Delhi |
N. Ananthanarayanan
Nov 09, 2017 08:44 AM IST
Mary Kom recently won her fifth gold in the Asian Boxing Championships in Vietnam and her latest triumph has not been about fighting age, younger and tougher opponents but about balancing life as mother of three young children, Rajya Sabha member and training, often in the morning and evening.
It is barely a few hours since Mary Kom landed a very special victory in the Asian Boxing Championships in Ho Chi Minh City, but she is already in the airport waiting for her flight to Delhi.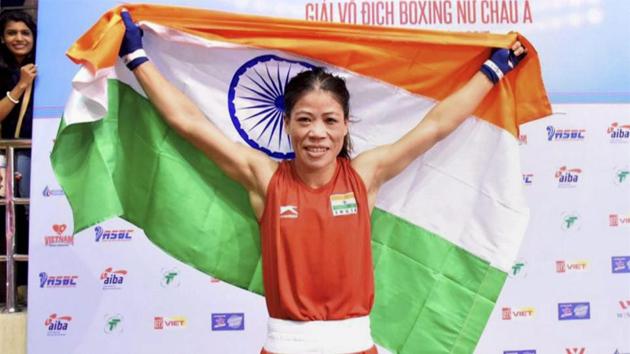 Didn't she stay back to celebrate the fifth Asian title, marking a grand comeback just when people felt at 34, Mary Kom was ready to move on? A unanimous decision against North Korea's Kim Hyang-mi showed the competitive fire is still burning bright.
Mary Kom explained she had to fly out to Switzerland to participate in the International Olympic Committee meeting from November 11-13. She is the international boxing body's representative for the IOC athletes forum.
"The pollution is high in Delhi, right?" she enquired, even more concerned as her children are in Delhi. "I spoke to them. They are very happy and can't wait for me to get back," she told Hindustan Times over phone from the Tan Son Nhat International Airport on Wednesday.
Her latest triumph has not been just about fighting age and younger and tougher opponents. It has been about balancing life as mother of three young children, Rajya Sabha member and training, often in the morning and evening.
"Every medal is special, even this medal is special," Mary Kom said. "Being an MP, it was tough. When the session was going on, I would go for practice, rush home and take a quick shower and run to the parliament. It was very difficult."
Did she manage a quick nap while the sessions were on? "No, not me," Mary Kom laughed. "I used to be in the parliament for an hour or two and then rush during lunch break and go for training in the evening."
GETTING TOUGHER
The 34-year-old boxer was happy with her fitness, but said the victory was mainly due to her vast experience. "It has become a difficult tournament. Now Asian also is getting tougher and tougher.
"The 48 kg, in the last seven years all opponents were of equal height or shorter," Mary Kom explained. "But my opponents are taller now," she said. Even her North Korean rival in the final, Kim Hyang-mi was much taller, and of course, younger.
"But I have the experience of 17 years," she said cheerfully. "So, I was able to handle them easily."
The fifth Asian title will be very special for the national sporting icon. There had been rumbling within the national camp, especially from the top 51kg contender, Pinki Jhangra. And when Mary failed to qualify for the 2016 Rio Games, after losing early in a qualifying event, few expected her to fight back into the ring one last time.
At the camp in Delhi for the Vietnam meet, Mary Kom told Hindustan Times she wanted to box for two more years. On the task at hand, she explained moving down to the weight she was most comfortable with would make all the difference.
"My actual weight is 48kg. Earlier, I was fighting in a higher category (51). It is very tough, to train and then to re-fill, increase weight, (it's) very difficult for me."
At the IG Stadium's boxing hall during the national camp, Mary Kom groaned in pain in the stretching session with the physio. But her focus will be on the gain. And the 2018 Commonwealth Games and Asian Games are the incentives ahead.