Mary Kom beats Zareen to make Indian team for Olympic qualifiers in 51 kg category
When the referee pulled the two opponents towards each other for the customary post-fight hug/handshake, Kom simply walked away, striding out of the ring with swagger, even as Zareen's camp protested loudly against the decision.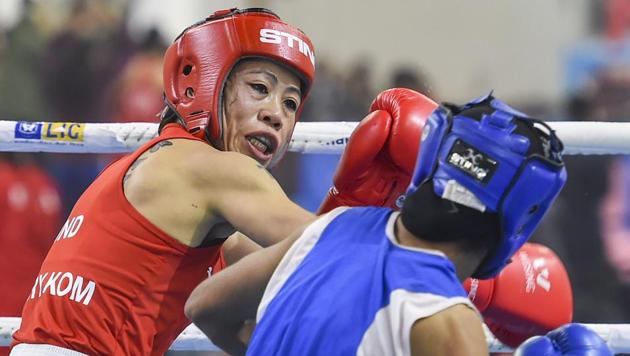 Updated on Aug 13, 2020 06:59 AM IST
MC Mary Kom was all fury after the final bout of the 51kg selection trials against Nikhat Zareen at the IG Stadium here on Saturday. As the referee raised her hand in victory, Kom tightened her left fist and pulled it towards herself; her face taut with emotion. When the referee pulled the two opponents towards each other for the customary post-fight hug/handshake, Kom simply walked away, striding out of the ring with swagger, even as Zareen's camp protested loudly against the decision.
Also Read: 'Not a safe country,' Miandad wants ICC to stop teams from touring India
The next few minutes was full of commotion and drama in the arena. Zareen's supporters refused to accept the decision, slamming the Boxing Federation of India (BFI) for being biased. BFI president Ajay Singh rushed in trying to calm the sitution. It took some time for sanity to return and trials for other categories to continue.
It was not even close to being the biggest fight that Kom had won in her two-decade long career, neither was it a slugfest that left her bruised; she won it comfortably with a 9-1 verdict in her favour given by the 10-judge bench. But it was the pride of the six-time world champion that was at stake; that's what she made it out to be. She has now won the rights to represent India in the 2020 Tokyo Olympics qualifier in Wuhan, China, from Feb 3-14.
This was a fight some time in the making; Zareen had claimed that Kom would be given a direct entry to the Olympic qualifiers even though, according to the BFI's rules, she needed to go through a trial. Zareen has been vociferously demanding a trial for the last three months.
Watch | Mary Kom reacts to not shaking hands with Nikhat Zareen after trail bout win
Inside the ring, the quality of the bout did not live up to the hype. It was a scrappy contest. There were not many punches thrown from either end. Zareen showed eagerness to score from the start but Kom was calm and slippery. She defended Zareen's trademark straight punches and scored on counters while maintaining a safe distance from the taller Zareen.
In the middle of the second round, Kom ducked a Zareen punch, stepped back and stretched herself full to throw a straight. Zareen then threw a combination flush on Kom's face. In the third round too Kom displayed good anticipation and defence to evade Zareen's punches.
Also Read: Nikhat Zareen slams Mary Kom for using 'foul language' during selection trials
Zareen, 23, was distraught after her loss but quickly gathered herself.
"What hurt me most was the way she behaved after the match. I did not like how she behaved with me," Zareen said. "When the decision was announced, I tried to hug her but she did not hug me back.
"Being a boxer, I respect her because she is my senior and also a legend. No doubt I will always respect her," Zareen said.
Kom, who had kept her silence in the build up to the trials, spoke after the match.
"How many times I need to prove myself? I have beaten (Zareen) many times," she said. "You saw today. I don't like controversy. My focus is upcoming big competition and to achieve medal for my country.
"She has been telling that I am her idol, then this is the way she behaves," Kom said. "You have no humility. If you respect then you should not talk and make such controversy. Game spirit is shown inside the ring not outside. Prove yourself inside the ring."
Also Read: Shooting a 'happy headache', Athletics a worry for India ahead of Tokyo Olympics
Zareen's fight for trials in 51kg began in August when BFI allowed Kom to compete in the world championships without a trial. After the world championships where Kom won a bronze medal, the federation first said that Kom will not have to stand trials for the Olympic qualifiers, even though the federation's own criteria for waiving off trials was at least a silver medal at the Worlds.
"I have not created any controversy. I followed whatever the BFI said after the world championships. They make the rules and regulations. Even I was surprised that I will not have to give any trials. I am always ready then why so much controversy," said Kom.
The BFI president said they were happy with the way the trials have been conducted, while reacting to protest from Zareen's camp.
"We have done the trials in a fair and democratic manner. There were ten judges and we had also invited the media. The bouts are recorded," said Singh.
Close Story
Personalise your news feed. Follow trending topics