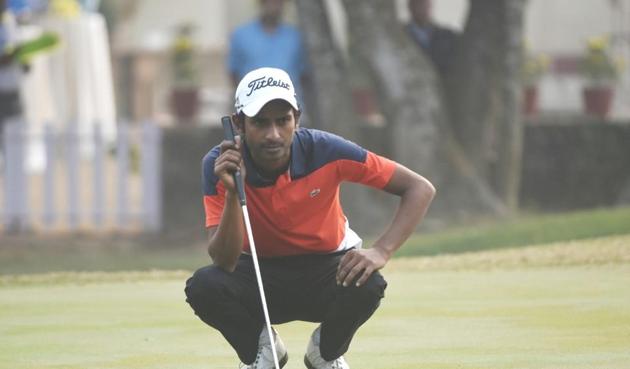 Rashid Khan shoots 8-under, soars to joint lead
Delhi lad Rashid Khan and Pariya Junhasavasdikul, who shot a four-under-68, opened up a four-shot lead at the top with their total scores reading 10-under 134
PUBLISHED ON DEC 23, 2016 10:20 PM IST
Rashid Khan was at the shamiana overlooking the 18th hole when Pariya Junhasavasdikul birdied it to be in joint lead. In a high stakes event like this, the leader isn't faulted for keeping a lookout for the nearest rival.
Rashid instead was keen on trying out the buffet. "If he has equalled my score, it means he is good competition. But I am not worried. There are still two days to go and I know I have to keep up this form to win," said the 25-year-old.
Given the year he has had, his calm is understandable. A bike accident --- he was riding pillion --- in June meant he was out of the domestic circuit for more than a month. The lacerations on his elbow and shoulder are still visible.
"It wasn't over for me. I got food poisoning in Taiwan before a wrist injury ruled me out of Asian Tour meets in Philippines and Indonesia," he said. "I didn't do well in 2015. This year was bad too as I missed out on a lot of tournaments. It would be good, for a change, to win and end the year on a good note," he said.
That the Royal Calcutta Golf Club is getting better was evident from the way Ranjit Singh sank the second hole-in-one of the tournament and Rashid went top of the leaderboard with an eight-under on Friday.
Fourth in the PGTI's Order of Merit, Rashid sank an eagle and two birdies on the first five holes. A 20-feet eagle putt on the par-5 set him up for a grand round that had four more birdies on the back nine. He landed it within a foot on the 12th, sank a 35-footer on the next and also capitalised with a birdie on the second par-5 at the 15th.
Swamped by congratulatory calls, he didn't forget to point out this wasn't his best score here. Two years back he had carded nine-under at the year-ending meet but still couldn't manage to win. Another birdie on the 18th and Rashid could have been ahead by a stroke.
Playing with Pariya is keeping him excited and cautious. "The good thing is I know what to do to win here," he said. Pariya, who has played a few Asian Tour meets with Rashid, agreed the competition is only going to get tougher. "Watch out for Rashid. He has got good hands around the greens. I guess it's going to be a good learning process," he said.
Leaderboard: 134- Rashid Khan 70-64, Pariya Junhasavasdikul 66-68; 138- SSP Chowrasia 70-68, Shubhankar Sharma 70-68; Amardip Sinh Malik 68-70; Ranjit Singh 68-70
Close