Marathon runner says Indian officials didn't give her water during Rio race
Updated on Aug 23, 2016 07:54 AM IST
Marathon runner Jaisha blames officials for not providing extra water stations during the race in extreme heat, but athletics federation says it was the national coach, Nikolai Snesarev's call.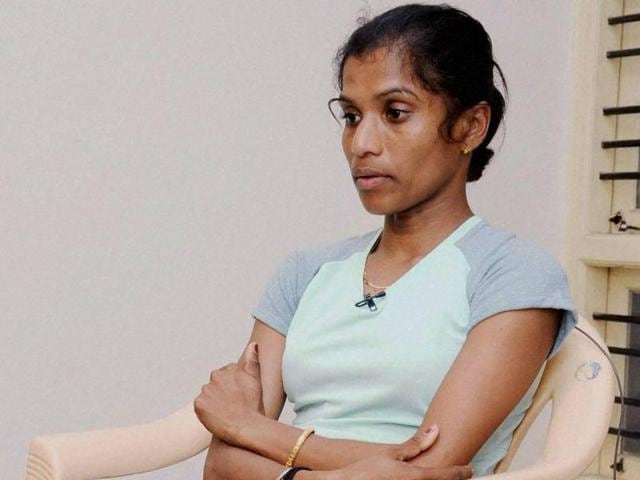 Indian distance runner OP Jaisha hit out at the national athletics federation on Monday for not providing her refreshments during the Rio Olympics marathon. She fainted at the finish line.
Jaisha, who didn't want to run in the marathon at the Olympics in the first place and was allegedly forced to race by India's Belarusian coach Nikolai Snesarev, hit out against the officials on her return from Brazil.
The runner from Kerala blamed the system for her poor show, after wilting in the heat and becoming unconscious. She was hospitalised and was administered drip before regaining consciousness after a couple of hours .
LEFT IN THE LURCH
Jaisha, 33, alleged that during the race she wasn't provided personal refreshment at water stations and was left too drained to come up with a decent performance. She finished a poor 89th under the scorching sun. She clocked 2hour 47min 19sec, far slower than her personal best of 2:34.43 recorded at last year's world championships in Beijing.
"It was very hot there. The competition was at 9am, I ran in scorching heat. There was no water for us, neither recovery drinks nor food. Only once in 8km did we get water (from the organisers) which did not help at all. All the countries had their stalls every 2km but our country's stall was empty," Jaisha was quoted as saying by PTI.
"We are supposed to be given drinks by our technical officials, it's the rule. We cannot take water from any other team. I saw the India board there but there was nothing. I had a lot of problem, I fainted after the race. I was administered glucose, I thought I would die."
'COACH TOOK THE CALL'
However, it may not be merely a case of negligence by the officials. Athletics Federation of India secretary CK Valson told HT it was the coach's call not to give additional refreshments to the runner. "We had collected passes and made arrangements, but Nikolai refused. How could be go ahead then?" he asked.
At world level marathons, there are 'water stations' after a certain distance along the route. Here, normal water and sponges are kept. There are also separate aid stations where the support staff of individual athletes wait to provide them supplement drinks. However, athletes must be used to such drinks during training or else it may not be effective in a race.
NOT ON THE SAME PAGE
The runner and her coach have had a prickly relationship. Jaisha had split with Nikolai in January. She along with Lalita Babar and Sudha Singh (both 3000m steeplechase runners) had quit the national camp at Ooty. That came after the Belarusian coach didn't allow the runners to represent their employers Railways in the national cross-country meet held in Pune.
After the federation intervened, the athletes returned to national camp, but the relationship with the coach, considered a tough taskmaster, didn't really improve.
There was disagreement over qualification for Rio as well. Lalita Babar, Sudha Singh and Jaisha had all qualified for the marathon, but were reluctant to run the event in Rio. "I want to qualify for 1500m or 5,000m," Jaisha had said in April. She, however, wasn't given that opportunity by the coach, although she did not speak out then.
Sudha and Babar went on to qualify for 3,000 metre steeplechase, but Jaisha wasn't impressive in the track events.
And five months before Rio, she was reportedly nursing a stress fracture in her foot, but was not given a break by the coach.
Kavita Raut, the second marathon runner, didn't opt for additional drinks along the route.
Personalise your news feed. Follow trending topics