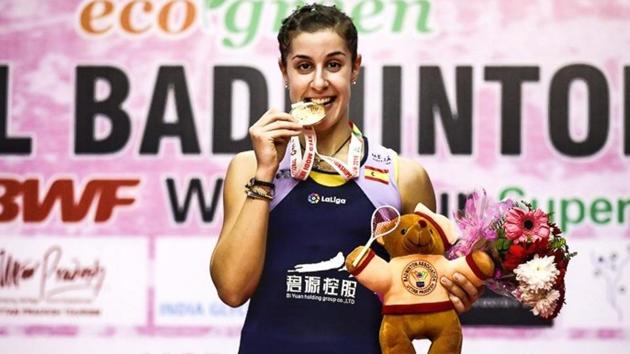 Syed Modi International: Wang Tzu Wei, Carolina Marin claim top honours
Sourabh came into the summit clash with a 1-1 head-to-head record, having lost narrowly to Tzu Wei at the Tong Yun Kai Cup in March this year.
UPDATED ON DEC 01, 2019 11:57 PM IST
Asian Games bronze medallist Wang Tzu Wei from Chinese Taipei on Sunday dashed the only Indian hope at the Syed Modi International Badminton Championship, outplaying Sourabh Verma in the men's final 21-15, 21-17. The women's title went to Rio Olympics gold medallist Carolina Marin, who defeated Thai Phittayaporn Chaiwan 21-12, 21-16 at the UP Badminton Academy.
The 36th ranked Indian looked a bit off-colour against a superior rival in the 48-minute battle. Despite leveling the scores at 8-all and then 10-all, Verma couldn't close the gap again on Wei, who stretched his lead to 17-13 before pocketing the first game at 21-17.
World No 22 Wei, who had a thrilling 2-1 win against Verma in their last meeting at the Tong Yun Kai Open this March, was focused on long rallies, leaving Verma struggling often. In the second game, Verma had no answer to Wei's powerful overhead smashes. Runner-up in the 2011 edition here, Verma bounced back after trailing 7-10, levelling the score at 13. It continued till the 16th point before Wei upped his attacking play to finish the second game in 26 minutes.
"The opponent was too quick in his shot adjustments and I couldn't match up with his pace in the second game," Verma said after the match. "I felt a bit tired in the final today as the semi-final on Saturday was quite energy sapping," he added. Wei said that he was more focused on long rallies and drop shots. "I didn't allow a chance to dictate terms as I kept him busy with long rallies," said Wei, who pocked the biggest purse of US $ 11,250.
The Marin-Chaiwan final turned out to be a one-sided affair as the three-time world champion took just 40 minute to defeat her rival. This was Marin's first major win after coming back from injury. The Spaniard took a slender lead of 4-2 in the start before racing to 11-6. Though the 40th ranked Chaiwan tried to impress her superior rival with a series of eye-catching dribbles at the net, Marin proved too good.
Chaiwan came up with a stunning play in the second game, wresting five points quickly to lead 5-2, and later at 11-8. But a two-minute break at this juncture helped left-hander Marin to stage a comeback as the 26-year-old stretched her lead to 19-16 before bagging two more points to finish off in style.
"It' a big win for me as after recovering from injury I was expecting such a restart to my quest for the 2020 Olympics qualifying," said Marin.
RESULTS (Final):
Men's: Wang Tzu Wei (Tpe) bt Sourabh Verma (Ind) 21-15, 21-17.
Women's: Carolina Marin (Eps) bt Phittayaporn Chaiwan (Tha) 21-12, 21-16.
Women's doubles: Baek Ha Na-Jung Kyung Eun (Kor) bt Chang Ye Na-Kim Hye Rin (Kor) 23-21, 21-15.
Mixed doubles: Rodion Alimov-Alina Davletova (Rus) bt Marcus Ellis-Lauren Smith (Eng) 21-18, 21-16.
Close