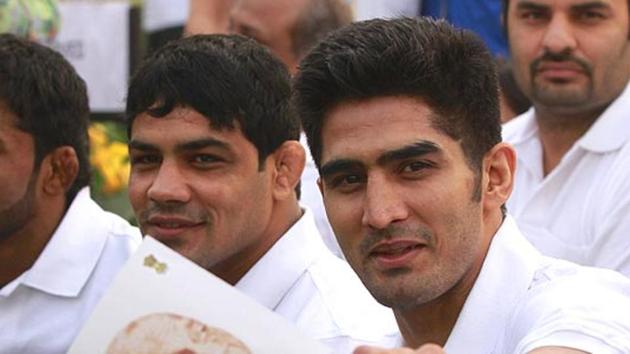 Teachers' Day: Vijender Singh, Sushil Kumar, Neeraj Chopra salute their coaches
Olympic medallists Sushil Kumar and Vijender Singh, and world junior javelin champion Neeraj Chopra praised their coaches on the occasion of Teacher's Day
UPDATED ON SEP 05, 2017 07:46 PM IST
On the occasion of Teacher's Day, two of India's greatest sporting icons, and an upcoming champion, have paid tributes to the coaches and trainers who helped shape their careers. Olympic medallists Sushil Kumar and Vijender Singh, and world junior javelin champion Neeraj Chopra -- while sharing a short film by PV Sindhu in which she praises her coach Pullela Gopichand -- spoke about the difference teachers have made in their lives.
In the film, named #HateMyTeacher, one gets to see how PV Sindhu's childhood -- which was as idyllic and lovely as any other child's -- was transformed by Gopichand. It was the start of a journey that eventually took her to world and Olympic medals.
READ | On Teachers' Day, PV Sindhu greets Pullela Gopichand with 'hate my teacher' film
"Coach has worked relentlessly and has had big dreams for me. I can't help but feel indebted to coach for his relentless pursuit of excellence. This Teachers' Day, I dedicate all my success to him and urge everyone else to also honour the driving force in their lives," said PV Sindhu. "Let's hate our teachers for pushing us further and believing in us more than we believe in ourselves."
While sharing the film on his FB page, double Olympic medal-winning wrestler Sushil Kumar praised his coach and father-in-law Satpal Singh.
"(Sic) Teachers humiliate you," wrote Sushil, who won bronze in Beijing Olympics and a silver medal in London 2012. "They are the reason behind your muscle pains, they push you to do that extra bit and they push you to #sweatforgold. In the end only hard work and sweat translates into gold... Thank you Mahabali Satpal Ji...."
READ | Why Neeraj Chopra failed to qualify for IAAF World Championship finals
Vijender spoke about his childhood coach Jagdish Singh, and Gubaksh Sandhu, the national coach during his prime in the amateur circuit..
"(Sic) Your teacher shouting at you may bother you at first, but you realise the real value when it turns into a war cry. Trainers matter, they make you #sweatforgold , thank u coach Jagdish singh, Gurbaksh sandhu," wrote the Beijing Olympics bronze medallist while sharing the film.
Young athletics sensation Neeraj Chopra has a long way to go in his career. The 19-year-old junior world record holder asked his followers to share Sindhu's message with their teachers and coaches. "Have you ever hated your coach? Watch P V Sindhu's personal story here and tag your teacher who made you #SweatForGold."
Close