World champion Mirabai Chanu injured, another lifter PM Kanchan fails dope test ahead of Asian Games
Updated on Jul 23, 2018 11:11 PM IST
Commonwealth Games champion and Asian Games medal contender Mirabai Chanu is nursing a back problem while national 90 kg + champion PM Kanchan has been provisionally suspended after recently failing an out-of-competition dope test .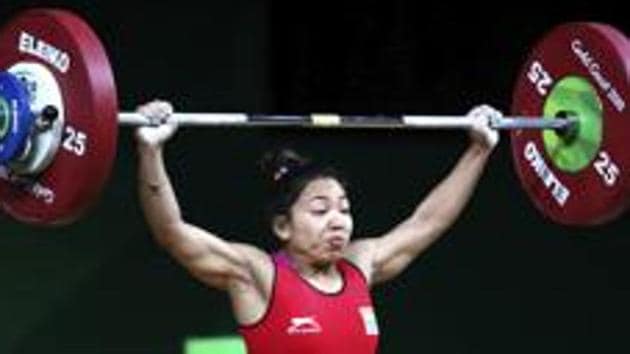 With less than a month left for the Jakarta Asian Games, Indian weightlifting has been dealt a double blow. World champion 48kg lifter, Mirabai Chanu, a medal contender in Indonesia, is on the injury list.
Mirabai lifted a personal best of 196kg (86kg snatch, 110kg jerk), a national record, to win the Commonwealth Games title at Gold Coast in April. The performance was better than that of the 2014 Incheon Asian Games winner Margarita Yelisseyeva of Kazakhstan (194kg). The Asian Games record is 210kg and the world record is 217kg.
Chief national coach Vijay Sharma said the Manipur lifter has missed six weeks of vital training due to back pain. "With time running out it looks difficult at the moment whether she will be able to recover lost ground. Pain aggravates when she trains," he said.
The coach didn't explain the nature of treatment Chanu. He said: "We hope the other lifters in the squad make amends for the injured champion."
ALSO READ | Air India leaves Manika Batra, other table tennis stars stranded at airport
Last year, the 23-year-old had claimed gold in the World Championships in USA with an impressive total lift of 194kg. It was hailed as a big success, and regarded the best since Karnam Malleswari won bronze at the 2000 Sydney Olympics.
In preparation for the Asian Games, Chanu trained in the high altitude of Shilaru in Himachal Pradesh. She wanted CCTV installed at important areas at Patiala's National Institute of Sports, raising concerns her food could be spiked with banned substances by anyone hostile to her.
Last month, she was one of five lifters who were shortlisted for the quadrennial event in Indonesia.
In a fresh case of doping, PM Kanchan, a 90kg plus lifter with potential, has been provisionally suspended after recently failing an out-of-competition dope test in the national camp at Patiala. Vijay Sharma confirmed the positive test. "She joined the camp in April. Since she tested positive, she was told to quit the camp."
ALSO READ | India junior World Cup cycling squad denied Swiss visa
The junior Commonwealth Games champion in 2015 was included in the national camp after she won the title at the Mangalore nationals in January. If she is found guilty of doping, Kanchan faces a four-year ban as a first-time offender.
In May, the federation suffered a jolt as 53kg CWG champion Sanjita Chanu's doping case surfaced. She was also among potential medalists for the Asian Games. Her case too is dragging on as her B sample report is yet to come.
Close Story
Personalise your news feed. Follow trending topics