WrestleMania 34: AJ Styles vs Shinsuke Nakamura - A true WWE 'dream match'
WrestleMania 34's WWE Championship match between AJ Styles and Shinsuke Nakamura has been marketed as a 'dream match' by the company, with many fans expecting this to be the match of the night.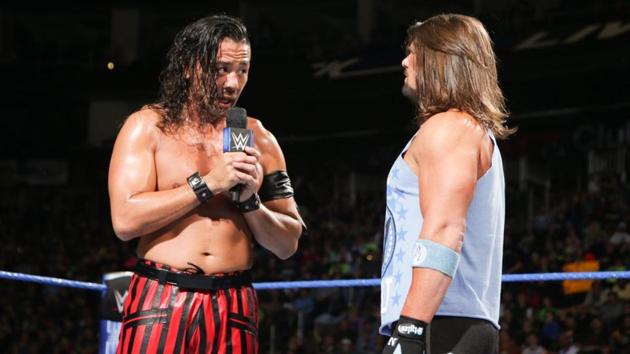 Published on Apr 08, 2018 06:44 PM IST
When AJ Styles and Shinsuke Nakamura stood toe to toe in the 2017 'Money in the Bank' match in Missouri, it was like a dream come true for almost every professional wrestling fan.
The two men were no strangers to each other's wrestling techniques and their match at Wrestle Kingdom 10 for New Japan Pro Wrestling (NJPW) was considered by many as a 'modern classic'.
However, this was the first time that they were facing off in WWE and the chants of "this is awesome" quickly filled the arena.
Unfortunately for the fans, the action lasted for just 2-3 minutes but it was a perfect teaser for what these two veterans can create in the ring.
The fans were thrilled by the prospect of the encounter and when Nakamura won the Royal Rumble, it was inevitable that he will be challenging Styles for the WWE Championship and the 'dream match' finally had a stage befitting its stature - WrestleMania 34.
READ | With focus on India, WWE targets more recruits from the country
So what makes this rivalry so special? In order to answer that question, it is unnecessary to look at the build-up to their WrestleMania match.
While most matches are hyped up by both opponents insulting each other, both Nakamura and Styles have said only positive things about each other.
That shows the mutual respect they share for each other and that makes it a unique rivalry in the world of WWE.
"I have a lot of respect for AJ (Styles) - both as a person and a wrestler. He has helped me a lot but I know how much fans want this fight and they will certainly see a classic from us," Nakamura said with a smile in an exclusive interview ahead of WrestleMania 34 in New Orleans.
This build-up is also reminiscent of their match in NJPW where they continued to show each other respect despite belonging to rival factions. This has been a unique feature of this rivalry and although the stage has changed, AJ Styles believes that the brilliance will remain the same.
READ | WrestleMania 34: WWE's women wrestlers continue fight for a level playing field
"I don't know if there is too much pressure as I believe that we can have a great fight regardless of the situation. The pressure exists to be at WrestleMania, but I do not think that affects us. I know a lot of people wanted to see us and now we will try to give them what they have expected for so long," said the WWE champion.
When it comes to wrestling style, they perfectly complement each other as Styles has a high-flying approach while Nakamura is known for his hard-hitting moves.
During their match at Wrestle Kingdom 10, they tore the house down with a match that was rated highly by every expert and if history is any indication, the crowd in New Orleans are all set to witness a WrestleMania classic.
Close Story