Wrestlemania 34: WWE's women wrestlers continue fight for a level playing field
At present, performers like Charlotte Flair and Asuka are no less popular than their male counterparts in the WWE, but women's wrestling is struggling for its fair share of space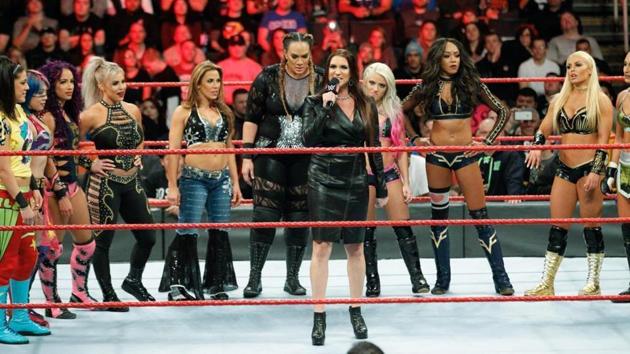 Published on Apr 08, 2018 12:33 PM IST
The last couple of years in the World Wrestling Entertainment (WWE) have been quite revolutionary as far as women's wrestling is concerned. From headlining pay-per-view shows to competing in the first ever women's 'Hell in a Cell' match, female wrestler have created history on a regular basis.
At present, performers like Charlotte Flair and Asuka are no less popular than their male counterparts in the company. However, according to WWE Smackdown women's champion Becky Lynch, the journey has just began for the division and she believes that a lot of work remains to be done.
"I think it is an ever-growing process. Few years ago, we did not have women's title matches at Wrestlemania. It has been changed now. But, my vision is to make engaging storylines around the division that will entertain the audience. It can't be about six-women tag matches as every performer needs to grow as a character," she said on the sidelines of Wrestlemania 34 in New Orleans.
Women's wrestling evolution has allowed a lot of performers to compete in historic matches, but as Lynch pointed out, the change is quite minimal when it comes to weekly programming. The six-women tag team matches are still quite the norm and if a title is not on the line, it is quite rare for women wrestlers to find a place in major events. Even when it comes to the Wrestlemania 34 card, there are two title matches and a Battle Royal pitting almost every other performer in the stacked division.
READ | WWE's 'Diva Revolution' comes full circle with first-ever women's Royal Rumble
However, it will be unfair to call out the promotion without recognising the fact that the women's division is currently at its all-time best. Last year, they headlined the main event of 'Royal Rumble' and the match between Sasha Banks and Alexa Bliss in Abu Dhabi created history by becoming the first women's match to feature in the middle-east. But, the division cannot only depend on historic matches to make its mark and according to Bayley, the situation is about to change pretty soon.
"How many firsts can we really do? I think that we are getting to the point where the matches will become normal for our division. I want people to watch our matches because they think that it will be good and not because it is a 'first ever' for the women's wrestlers," the former champion said.
There is no doubt in anyone's mind that the WWE women's division has seen a lot of positive changes and the performers have attained new heights when it comes to in-ring action. But a lot of work still needs to be done and as a result, the women's evolution cannot rest on its laurels just yet.
Close Story