Anand vs Carlsen: Chess World Championship game 10 ends in a draw
Updated on Nov 22, 2014 07:38 PM IST
In the tenth game of the World Chess Championship, Viswanathan Anand, playing with white pieces Friday, had to be satisfied with a draw against Magnus Carlsen. Carlsen is now just a point -- a win or two draws -- away from retaining the title.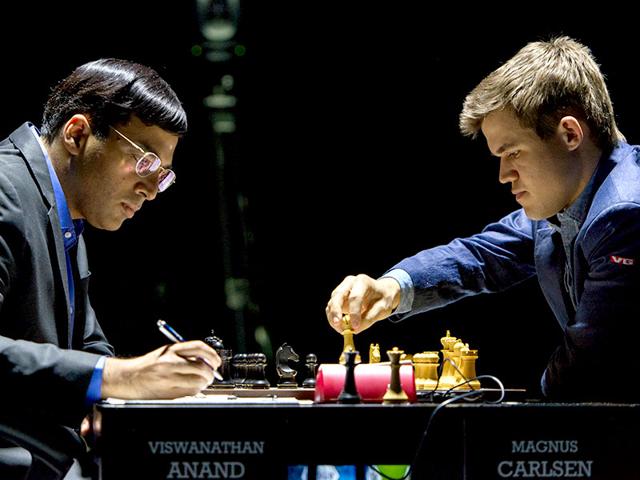 In the tenth game of the World Chess Championship Viswanathan Anand playing with white pieces drew with Magnus Carlsen.
Game Board


Analysis
Grunfeld defence - 1. d4 Nf6 2. c4 g6 3. Nc3 d5 - was played in game 10. Learn about Grunfeld defence here .
Grunfeld defence
Both the players came well prepared for the game. Neither was Magnus surprised by Anand's position like last game nor Anand played into Magnus' home preparation. It was an even game throughout with small advantages arising for white sporadically, which Anand failed to convert.
Magnus has been forcing a queen trade-off for the past four games now. He learnt his lesson from game 3, in which Anand put his queen to good use and won. In this game too he managed the trade-off in move 18.
Queen trade-off
Anand's 19th move, 'Ng5' created some problems for Magnus initially. He wasted almost 20 minutes before replying for the move. Later in the press conference he recounted this as an interesting variation and it may have created problems if he had not managed some accurate moves.
The only advantage Anand had was his 'd' pawn, which he had managed to push forward like in many previous games. But this time he could'nt elicit much advantage out of it. He even managed to put his pawn in the last square and bring his queen back, but Carlsen had a knight waiting to quash the advantage.
To sum it up, Anand executed some well prepared moves but Magnus defended everything with precise game play. Carlsen didn't commit even a small mistake in the match thus Anand was never able to break-free and going behind him.
Susan Polgar defended Anand's game play, "The fans need to consider Anand's position before criticizing for not going 'nuts' during the game. If he risks too much and loses, the match is basically over. Not an easy position or decision to make. It is easy for many fans at home with computer engines and nothing at stake to scream for him to go 'nuts'."
With just two games left in the championship, Anand's hopes of winning this championship are hanging in the balance. The five time World Champion has to win atleast one out of these two to even stay in contention.
At the end of this round, Carlsen continued his one-point lead with 5.5 points, to Anand's 4.5 in the 12-round match.
Carlsen is just a point - a win or two draws - away from retaining the title which he had effortlessly wrested from Anand last year.
The 11th round will be played on Sunday with the players resting on Saturday. If that ends in a draw we are in for a thriller game 12 on Monday.
Seems like the counter blunder - 'move 26' - Anand made in game 6 is going to cost him this time.
Press conferece
A grim faced Anand told in the press conference, "I could'nt find anything which I missed. But yeah, it didn't end well."
He added, "It was a interesting game today, but he defended well. Let's see."
Magnus said in the press conference, "After NG5 I didn't find it easy at all. There are not many clear guidelines for that move."
When asked how Anand felt about his chances to become champion, he said, "I know I have to play well thats all, we know the score, yes, but i'm still there."

Previous games
|
|
|
|
|
|
|
|
Add this to your flipboard
Dont's miss any stories, follow our World Chess Championship magazine