Elgar Parishad case: Validity of terror charges against VV Rao, Wilson questioned in Pune court
Mar 26, 2019 04:48 PM IST
Advocate Rohan Nahar, who is representing the duo challenged Section 15 of Unlawful Activities Prevention Act, which has been invoked against the accused
Varavara Rao and Rona Wilson, two of the nine activists arrested in the Elgar Parishad case, presented before a local court, their case for bail in Pune on Monday.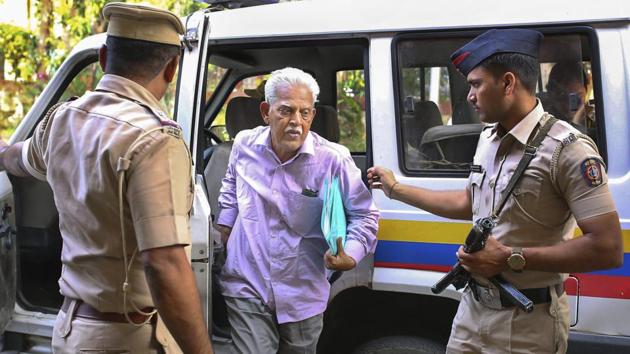 Advocate Rohan Nahar, who is representing the duo questioned the validity of the terrorism charges levied against them, in the court of Special Judge KD Vadane. Ujwala Pawar, Pune district government pleader, was also present.
Stay tuned with breaking news on HT Channel on Facebook.
Join Now
Challenging Section 15 of Unlawful Activities Prevention Act, which has been invoked against the accused Nahar said, "No material as such was used during the Parishad, that can account for sections of terrorism".
He further stated that the Elgar Parishad that was organised on December 31, 2017 had no connection to the violence that broke out in Bhima Koregaon, Pune and surrounding areas. The pamphlet, that the prosecution presented as document evidence against the accused calls for a movement against the government in a constitutional manner.
The defence advocate further claimed that the first information report (FIR) filed in the case was baseless. "There was no cause of action for the FIR to be registered against the activists (on January 8, 2018), as two FIRs in relation to the Bhima Koregaon violence had already been registered against Sambhaji Bhide and Milind Ekbote. "These people (arrested) are being made scapegoats to protect them (Bhide and Ekbote)," added Nahar.
He also questioned Section 2(1)(i) and 2(1)(o) of UAPA which was invoked against the two. Section 2(1)(i) of UAPA reads, "secession of a part of the territory of India from the Union" includes the assertion of any claim to determine whether such part will remain a part of the territory of India". To this, Nahar said, "Is it the case of the prosecution that by committing terror acts, there was a call for secession? No. It is not. Therefore, the terrorism charge falls flat on its face."
After the initial phase of the argument, Nahar also mentioned that the names in the electronic documents presented by the prosecution could not be verified as the names of the arrested people. "How would one know if VV is Vara Vara Rao or Comrade M is Milind Teltumbde?," he said. However, "Comrade Prakash Ambedkar" who is mentioned in the letters has evaded police action due to lack of verification, he said.
"There are names and numbers mentioned of a few people in the letters, why has no action been taken against them?" he questioned.
Vara Vara Rao, Rona Wilson, Shoma Sen, Sudha Bhardwaj, Vernon Gonsalves, Surendra Gadling, and Arun Ferreira were present in the court along with others.