Preliminary round of 4th edition of Young Chef Olympiad to be held in Pune
Updated on Jan 25, 2018 02:56 PM IST
50 countries to battle it out in India for the coveted trophy of the fourth Young Chef Olympiad. Pune to hold the prelim round on January 30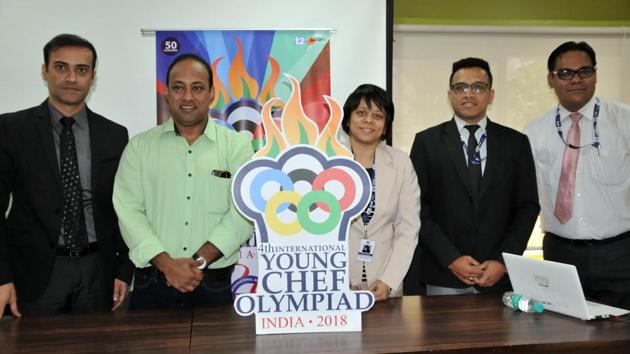 Hindustan Times, Pune |
Anjali Shetty
On Wednesday, details about the 4th edition of Young Chef Olympiad were announced by Rupinder Singh Khurana, director, International Institute of Hotel Management, Pune and chef Ritesh Sen.
The Young Chef Olympiad (YCO) was founded three years ago with an aim to create a platform for young, budding and aspiring chefs.
Starting from January 28 to February 2, the event in Pune will kick-off at The Westin Pune with a culinary forum, panel discussion and preliminary rounds.
Khurana said, "This is an international-level culinary platform where 50 countries will be sending in their young chefs to participate.
"These are training chefs and not experts. They will be judged on culinary skills and techniques. They will also be marked based on their hygiene, working methods, waste management and best use of ingredients.
"They already have the guidebook on what dishes they have to attempt. The challenge will be in how they present it and how close they come to the original recipe."
For the Pune preliminary round, international judges will be chef Andreas Muller, chef Karl Guggenmos, chef Boris Leung and Pune's very own Karen Anand.
Chef Ritesh Sen, general manager, Food & Beverage (F&B), The Fern, who will be on the judging committee at the Pune event, said, "Cooking in your own kitchen is always easy and quick. However, when you are shifted to a new kitchen and surrounding the same easy dish becomes a task.
"These young chefs will be judged by two sets of judges. One will be marking them on their technical aspects, while one will be for their presentation, taste, flavour and culinary knowledge."
Pune will be hosting Group E of the competition which will comprise countries such as Philippines, Egypt, Iran, Kenya, Armenia, Greece, Turkey, Namibia, Mauritius and Malta. The winner of these rounds will proceed to the next level, after which the next winner will enter the final top 10.
The finale which will be held on February 2 in New Delhi will present the winner with a cash prize of $10,000 and the YCO Trophy.
The event will also witness a culinary forum and panel discussion on January 29. It is a gathering of culinary and hospitality practitioners from every corner of the world meeting to discuss, explore, learn and share views and experiences pertinent to a range of contemporary issues affecting the global hospitality and culinary world.
Khurana added, "The primary aim of the forum organised a day before the competitions is to enable international experts to present views and opinions on a range of subjects and to encourage questions and views from all those present.
"A key focus will be on emerging trends and inspiring young people to enter the hospitality and culinary industry. The audience shall comprise of chef mentors attending the Olympiad, the YCO competitors and invited guests from the hotel and restaurant industry – general managers, executive chefs, food and beverage directors and HR directors."
Highlight of the event in Pune
January 29: Culinary Forum and Panel Discussion
6 pm: Sustainability and Food Waste: Reducing the food miles
6.50 pm: The Journey of a Chef: A panel of World Class Chefs tell of their own personal journey and answer questions from the audience. Chefs:Boris Leung and Enzo Oliveri
7.15 pm The X Generation to the Z Generation. An exploration of how the generations in the last 60 years have changed in attitude and expectations and the impact that this can have on career choice.