Pune city students get India's priorities straight
Updated on Jan 27, 2018 03:38 PM IST
Youngsters talk about top three important issues ailing the nation.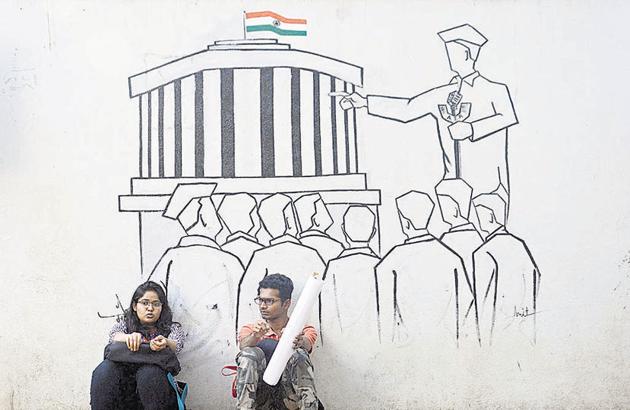 Hindustan Times, Pune |
Ananya Barua
The need for quality education for the masses and the elimination of political agendas from policy-level decisions has reflected a few of the most recurrent and important issues among students of today, as concerns what is ailing the nation.
On India's 69th Republic Day, Hindustan Times reached out to college students of Pune to understand their insights on the top three priorities for the country.
"In my opinion, the broad three issues India is facing are poverty, environmental degradation and unemployment, which continues to silently ail the country and are yet being ignored.
"We all know about these issues, but none of the governments have yet done anything substantial to solve them. It is because the importance given to any particular issue is not governed by its long-term impact on society, but by its short-term impact on election patterns," said 19-year-old Shruti Ghanekar, a second-year Political Science student, of Sir Parashurambhau (SP) College.
On the same lines, 20-year-old Palash Gughane of SP college felt that India is indeed heading into a jobless growth scenario: "India is moving towards unemployment, whereby behind the garb of 'Make In India' and the seemingly promising opportunities, the youth still continues to reel in mass unemployment.
"Although the boost given to startups in India is encouraging and many truly make jobs in India, however, it is still low in comparison to other countries, especially taking into consideration our population."
According to Gughane, second-year student of economics, the other two priorities are freedom of expression and corruption.
"The most important issue for this democratic nation is to continue to enjoy one of its most crucial hallmarks, freedom of expression.
"The recent Padmaavat issue is just a small reminder of how badly we need to respect that freedom and be tolerant, and how we are failing society.
"Another example of such failure is in terms of women and child safety, where despite strict provisions, the implementation and justice is far from reality."
Gughane added, "The main issue is corruption, a product of the growing nexus between the power-holders and the governing system. That needs to be dismantled in the first place, for any change to trickle down to the common citizens of the country."
"Personally, I feel that for any change to trickle into the lives of the masses, initiatives on the policy level needs to be free from corrupted political agendas. But, currently that is not what's happening and hence, we are where we are.
"Despite 'fair elections' there is no connectivity between the citizens and the ruling government, no substantial accountability. The link needs to be established at every level," added 19-year-old Pratichi Bhattacharya, a first-year BSc student of Environmental Science, Fergusson College.
This lack of transparency was also pointed out by Aniket Dolas, BA journalism student, Indira School of Communication (ISC). Citing instances of violence and extremism in Padmaavat controversy, as well as Koregaon Bhima, he added, "The government should be an unbiased entity unperturbed by any extremism.
"In any case, they need to be able to control the situation, but that in both the cases of Padmaavat and Koregaon Bhima, was not done.
"The country needs to evolve and being intolerant, extremist and exclusive based on gender, sexuality, caste or religion, betrays the very essence of India."
"Apart from the political amiss in the country, I feel, educationally, also we are extremely backward. For a democracy, as big as India to operate successfully, our base should be substantial education, which is not being imparted.
"Education in India needs to be more practical and applicable rather than being heavily dependent on just theory. Further, the issue of women health and safety is still a dark area where almost nothing has really changed for good," added Bhattacharya.
MBA student Harjot Singh of International School of Business and Media also feels that lack quality education is the missing link to the development of the nation. "Education is simply not the attainment of a certificate of degree of qualification unless it can be put to substantial use to build the future of the individual and the community around, it is of no use.
"Unfortunately, the approach towards education has been quantitative rather than qualitative, which needs to change," said the 23-year-old student.
According to him, lack of education is aggravated by two overlooked vices in the nation, sanitation and population control, which need stricter laws for control.