Pune civic body must prevent ruthless hacking of trees, say Tree Authority members
Tree authority members voice concern about ruthless tree cutting which is clear violation of the permission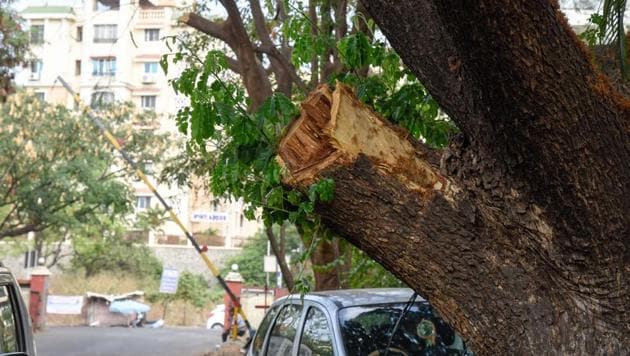 Updated on Apr 19, 2018 04:14 PM IST
Hindustan Times, Pune | By Prachi Bari
The Pune Municipal Corporation must immediately take note of the ruthless cutting of tree branches in the name of "trimming" trees as has come to light at Ram Nagar Colony, Bavdhan, Pune Tree Authority member Shilpa Bhosale, said while speaking to HT on Wednesday.
Expressing surprise over the huge tree branches hacked at Ram Nagar Colony, as reported by HT on April 18, Bhosale said that the tree trimming permission given by the PMC's Garden Department was being misused in a number of cases.
"The problem stems from the fact that ever since Garden department and Tree Authority were separated, there are lesser staffers working in Tree Authority. This department has been suggesting private contractors to trim the trees. In fact PMC needs to take note of this seriously and appoint in-house woodcutters with Identity cards who are trained on how much trimming of a tree is to be done rather than allowing private woodcutters who deliberately mislead the societies or owners and cut more than needed," Bhosale said.
Another Tree Authority member, Sandeep Kale, said, "The permission given by the Pune Tree Authority is only for tree trimming but it is often seen that the permission seekers misuse it and instead of trimming, the tree branches are cut more than necessary."
Kale said that usually, the tree officer is supposed to visit the place after the tree cutting for inspection to see if the orders have been followed. "If Ram Nagar Colony has gone beyond what has been stated in the permission, then there can be a case filed against them in police and also in PMC court," he said.
Located near Bavdhan Police Station, Ram Nagar colony is a quiet residential neighbourhood with around 50 societies, with people from diverse backgrounds.
A visit to colony last week revealed that on a number of majestic trees, entire branches have been cut from the trunk itself. This appeared to be in clear violation of the permission given by the Tree Authority which was for trimming branches up to a length of two to three metres each.
The permission dated 6/11/17, a copy of which is available with HT, specified that "two to three branches of 0.4 m to 0.6 m width" may be trimmed to a length of 2-3 metres each. The approximate age of these huge Gulmohar and other trees has been recorded as 18 to 40 years and above.
"We had permissions to trim the trees in our colony, which is a private area and we have done nothing wrong in trimming branches of trees which are dangerous or close to the road," said Beena Menon, President, Ram Nagar Colony Mandal.
Anil Sabale, tree officer in-charge of Kothrud, Aundh, Baner, Bavdhan said that clear instructions had been given on which tree was to be trimmed to what extent. Trimming according to the Tree Authority is the cutting of two or three branches and in the case of a rain tree or Ashoka tree, cutting up to 7 metres above the stump.
Close Story