Pune lads curb mechanical waste and air pollution, one vehicle at a time
Hindustan Times, Pune |
Anjali Shetty
Feb 25, 2018 05:39 PM IST
Located at Roseland Residency in Pimple Saudagar, they started with just two mechanics and are now a proud family of 17 mechanics.
Shishir Gandhi and Prabudh Kakkar formed GarageWorks in November 2015 with the aim to provide doorstep two-wheeler services and repairs. Today, they have grown to shift focus to prevention and treatment of mechanical waste and reduction of air pollution. Located at Roseland Residency in Pimple Saudagar, they started with just two mechanics and are now a proud family of 17 mechanics.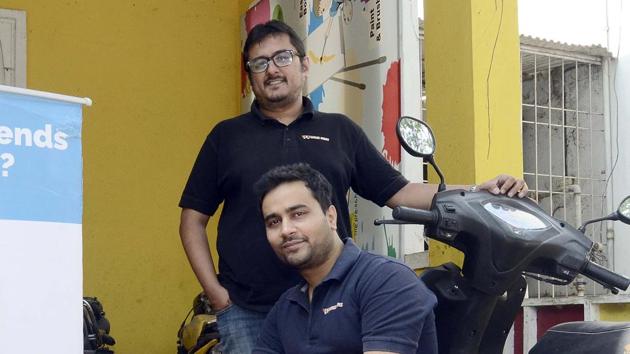 They decided to focus on prevention of mechanical waste and with the help of the management of residential societies, they are spreading awareness about the evils associated with mechanical waste accumulation in housing societies and the underlying reasons - efforts and the expense involved to get an unused vehicle fixed.
"With GarageWorks doorstep services, owners of such vehicles now have an option to get them fixed at their doorstep. We also help residents in providing a platform to sell such vehicles. For those vehicles which are not in the condition to be restored, we treat them as junk and get them picked up by our scrap partners for recycling. Vehicle owners are not motivated to do this as the yield is extremely low (as low as Rs.500-Rs.1,000) and is often their last resort," added Kakkar.
Thirty-four-year-old Kakkar said, "Owing to the great response to our initiative, we went on to setting camps in different residential societies across the city. It is then that we realised that there are a lot of unused/unattended two-wheelers lying around in housing societies which were gradually turning into mechanical waste. The numbers have now increased as more than 65% of the families in Pune have a second vehicle; car or bike."
A mechanic who enrols to work with GarageWorks earns between Rs.13,000 and Rs.15,000 on a monthly basis, which, according to Kakkar, is 25-30% more than what they earn while running a garage. It also saves them from the hassles of investing in a physical garage – a straight saving of Rs.45,000 to Rs.60,000.
What does GarageWorks do?
A tech-enabled solution smartly executed through the 'Hub & Spoke' model holistically empowers mechanics to deliver services at the customer's doorstep (in the parking!), freeing them from the burden of running a physical garage.

How does one book a service? One can simply call the helpline #8806174754 or log on to the website www.garageworks.in .
The founders
Shishir Gandhi (IIT Delhi '05, 12+ years' experience) - Head Portfolio Management - Auto Alliances at ICICI Lombard GIC Ltd - Implemented ILPOS - India's first & largest O2O Insurance platform for Two-Wheelers - Founded InsureTech start-up, Built extended warranty programs for OEMs - Scaled Operations from scratch for a healthcare start-up into 9 cities
Prabudh Kakkar (MBA-SIBM, 12+ years' experience) - Global business development & consultative sales at KPIT Technologies - Rollout of Diagnostics & Telematics solutions for 2 automobile majors in USA - Rainmaker for SmartChk, a mobile diagnostics start-up.