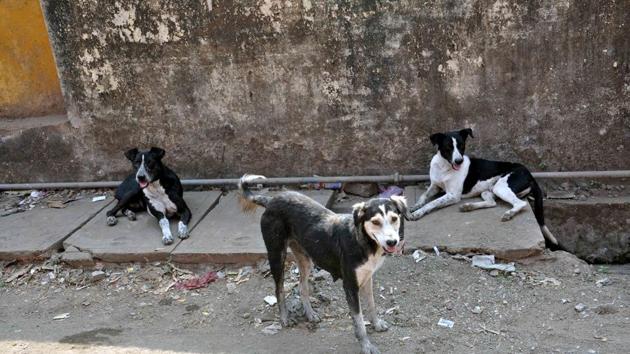 Pune's governing body plans major drive to control stray dog population
With increased budgetary allocation, the Pune Municipal Corporation plans to deploy 15 dog vans and get more dogs neutered
Hindustan Times,Pune | By Prachi Bari
UPDATED ON APR 01, 2018 03:04 PM IST
In view of the rising number of stray dogs in the city, Pune Municipal Corporation (PMC) has decided to undertake an aggressive programme to control their population.
Under this programme, the PMC health department has decided to provide each of the 15 ward offices with one dog catching van along with a dog catcher who will neuter the dogs in areas within the ward office limits.
The population of strays in the city has been estimated at around 50,000, which was around 11,000, five years ago. The rise in strays is being attributed to the expansion of the city since 2003. Stray dogs were also aggressive in areas where they were fed left-over meat by Chinese food stalls and butchers in the city, PMC's assistant health chief, Dr Vaishali Jadhav.
"This year, we have received a budgetary allocation of ₹2.90 crore for the health department of which ₹1.05 crore will be spent on the dog vans," said Dr Jadhav. The budget is substantially higher than last year when it stood at ₹72 lakh, she said, adding that the increased allocation will help bring in contract-based doctors, a veterinary surgeon and veterinary officer to monitor the operations. The budget for the anti-rabies injections has been increased to ₹40 lakh, from the previous ₹25 lakh.
"At present, the department has only five dog catching vans, and each van can accommodate 10 to 15 dogs at a time. We also have a tie-up with four NGOs, namely, Animal Welfare Association (AWA), Society for the Prevention of Cruelty to Animals (SPCA), People for Animals (PFA) and Blue Cross Society who help us to catch the strays and neuter them when we get calls in the evening or in the night," Jadhav said.
Under the existing rules, pregnant bitches, puppies and lactating bitches cannot be included in the programme until six months. "So only the male dogs are picked up, neutered and then released in the same area. We have two dog pounds, one at Naidu Hospital and the other in Keshavnagar. Another one is coming up in Baner which is being constructed at a cost of ₹35 lakh," said Jadhav.
Pune witnessed 9,461 cases of dog bites during 2017-18 as compared to 10,059 cases in 2016-17.
According to the PMC, during 2017-18, 9,389 stray dogs were neutered till February.
Close