Your Space: Awareness and sensitisation needed to have a pollution free Diwali
As happens every year, unacceptably high air and noise pollution levels were recorded across the country due to the bursting of firecrackers during Diwali. What should be done to make a real difference next year? Here is what our readers have to say.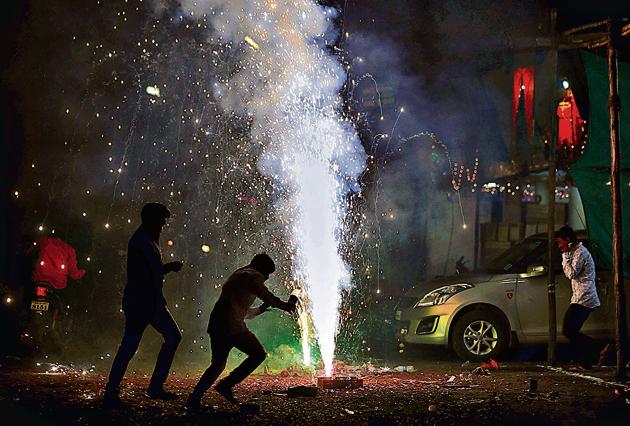 Updated on Nov 18, 2018 03:35 PM IST
Ban noisy and pollution prone firecrackers
Firecrackers are synonymous with Diwali celebrations and no one will be ready to forgo it completely, so this year the Supreme Court directed everyone for a time limit for firecrackers, still some broke the limit. So there is a great need to sensitize common people about hazards of firecrackers and the results of air and noise pollution. The firecrackers should be burnt in a community and within the limit which will avoid the excess of it. Children should be taught not to burn firecrackersand should listen to their parents. Besides the manufacturing of noisy and pollution prone firecrackers should be banned altogether by the government for once. If the supply of noisy and polluting firecrackers is stopped, it will result in pollution free Diwali.
Maya Bhatkar
Spread awareness among masses by using technology, social media
First step is to find the cause of the problem. This has been done thorough the study of the problem and it concluded that during Diwali, noise and air pollution is because of fire crackers. After knowing the reason action has been taken by making laws.
Now to get the desired result it is to spread awareness among masses by using technology, social media, road shows, television, radio and taking help of celebrities. The more it is made to reach to maximum people, the more desired result will be achieved. Hindustan Times is also playing a very good role by allowing people to express their views and suggestions and printing them in newspapers so as to reach to lakhs of people. Normally 80 to 85% of people cooperate as everyone is worried about future and remaining 20 to 15% are taken care of by law.
Normally small children are more interested in crackers. We can make them realise the difference between polluted areas and clean areas by taking them to some hill station where there is clean and pure air, and peace and silence, and can be taught how with our little effort we can also make our area and surrounding clean and peaceful. Also we can give them some incentive for not bursting fire crackers. This year we have seen lots of people have stayed away from crackers and I am sure with our efforts the number will increase year after year. Thus a step taken in the right direction is bound to give desired result.
Haresh Shah
Create awareness among children to reduce pollution
What I have noticed in all these years is that children are the ones who get most excited about crackers. Maybe tapping them at a young age and explaining the ill effects of crackers will help. Having said that, parents and elders should explain the consequences of burning crackers. Children should be shown what could happen if someone gets hurt or hit with crackers. This will maybe get them to be considerate. Also, telling them the effects of crackers on animals may make a difference. To sum it all, I feel children should be explained it all.
Malati Kuwar
Increasing prices of noisy crackers may help
Apart from spreading the message of pollution and how crackers affect the environment, another way of dealing with this issue could be by increasing the price of it. We are anyway suffering from high prices and inflation. So, may be people may shy away from buying expensive crackers during festivals. It may not work with every section of society but there is no harm in taking a step like this.
Priyanka Ahire
We need to start from our own home
I strongly believe that every individual is responsible for this planet. So, unless each one of us takes an effort to create awareness about the ill effects of pollution, then we have no right to complain about it. Teaching children about the it will also help as they are at an impressionable age. If they understand, they will grow up to be responsible citizens thus ensuring a green festival celebration.
Rohit Shrivastava
Let's be clear on why Diwali is celebrated
I have been questioning all those around me on the actual reason on why we celebrate the festival. Unfortunately, every one has various answers. The sad part is that we conveniently use crackers as a way of celebration. We need to stop that. We need to stick to the real meaning of the festival, where it means to spread light, joy and love. I don't think any religion wants you to pollute the environment.
Soham Shinde
Close Story