Adjudged best, community centre, market of Panchkula's Sector 12A not so swachh
Spaces have been encroached upon, parking is badly managed and there aren't enough dustbins to go around.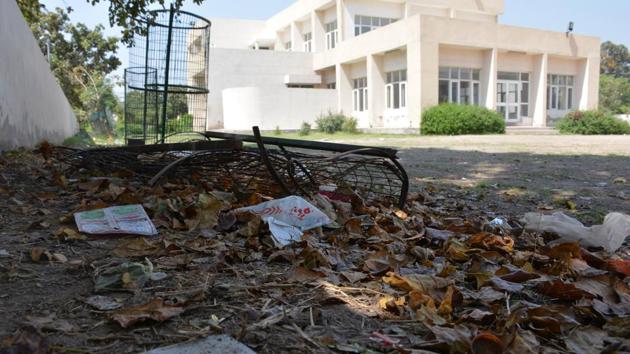 Published on Mar 31, 2018 02:17 PM IST
In swachh awards conferred by Panchkula municipal corporation in different categories, Sector 12A market and community centre were declared the city's best structures. However, a reality check tells us otherwise.
Poor condition of Panchkula's community centres is well known, however, the centre in Sector 12A is comparatively clean but not best maintained.
The centre has a huge lawn which cries for attention. The trees have been uprooted. The grass has grown into bushes and the surface has become a dumping ground in the absence of maintenance.
The three-year-old building has not been whitewashed even once. It only has a single guard, who is looking after the property.
Panchkula has 14 community centres and a majority of them have maintenance issues. Sectors 10 and 15 are worst in terms of facilities. A proposal is mooted by Panchkula MC to rebuild them with modern conditions.
STINKING TOILETS
The market has separate toilets for men and women but are in deplorable condition. Foul smell emanating from it causes trouble to people.The feedback machine installed inside toilets is non-functional.
MARKET WITHOUT DUSTBINS
There is a shortage of dusbins in the market. This makes waste management difficult. A majority of dumpsters provided by the MC are always overflowing with garbage so a person is forced to discard trash elsewhere.
Half of the market is empty and yet not been auctioned by Haryana Urban Development Authority (HUDA).
"if this is best market by MC officials' standard, I wonder what is the fate of other markets," said Ashutosh Gautam, a resident of the same sector.
SK Nayyar, president of citizen welfare association, said "The MC has so far not prioritised upkeep of market areas which is integral part of the city. Through HUDA is the allotment agency, the MC can do maintenance work for the larger public interest.
When contacted, MC commissioner Rajesh Jogpal said, "We have already tied up with Sulabh India for the renovation and maintenance of toilets and the work will start soon."
Encroachments, unplanned parking in market
The sector's market has many eateries and general stores, however, the entire corridor of its main market complex is encroached. A single inch of the corridor in front of shops has been encroached upon, leaving visitors high and dry.
What makes the market even worse is haphazard parking. There is no marking to guide commuters to park their vehicle without causing inconvenience to others.
Akash Sachdeva, a visitor, said that there are instances of wrong parking during peak hours. The parking lots should be managed properly in the city.
The civic body in the past had assured of better functioning of parking lots by making a new policy but in vain.
MC commissioner Rajesh Jogpal said, "We are taking care of public toilets and as far as encroachment and parking issues are concerned, both are in the domain of HUDA. They should do something about it."
Close Story